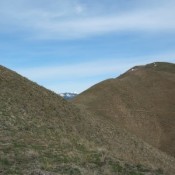 The Grand Slam Peaks are all popular destinations this time of year. Here is a quick update based on my observations today and a recent Idaho Statesman article.
Cervidea: I hiked Cervidae this morning. The trail was damp but there was no mud. The wildflowers will be blooming soon. Saw a golden today.
Kepros: Based on observation from Cervidea I believe you can expect snow in places along the ridge. The snow tends to hang out on the north sides of the dips in the approach ridge.
Heinen: There is still a lot of snow left on the peak. The standard approach is likely to involve crossing a lot of rotten snow. The northern approach is probably not feasible at this time.
Shaw Mountain/Lucky Peak: All approaches to the summit are CLOSED at present. The closure is to protect wildlife which are stressed as a result of last year's fire. Read Chad Cripe's article in the Idaho Statesman for additional details and links. At present there is no estimate date for reopening this area.