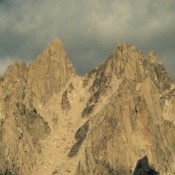 This peak is found on pages 170 to 171.
---
Mount Heyburn 10,200 feet, Sawtooth Range. Stur Chimney. (Grade II, 5.2). A two pitch climb on solid granite.
Heyburn's western summit known as the West Pinnacle is a Class 6 problem. The first ascent dates back to 1948 when R. Widrig, J. Hieb, W. Grande and G. Mathews climbed the Tunnel Route which they rated III, Class 6. I do not think that there has been any significant activity on it since that time.
---
A Few More Photos.
Mountain Range: Sawtooth Range
First Ascent Information:
First Ascent Year:

1935

Season:

Summer

Route:

Southwest Ridge

Party:

Robert Underhill, Mrriam Underhill and Dave Williams
Other First Ascent:

Stur Chimney

Year:

1958

Season:

Spring

Party:

Fred Beckey, Jerry Fuller and Jim Ball.

Other First Ascent:

Winter ascent Stur Chimney

Year:

1975

Season:

Winter

Party:

W. Cove and L. Adkins (or Luis Stur and Fred Beckey if you count April 3, 1961 as a winter ascent).

Other First Ascent:

East Face / Snow Couloir

Year:

1947

Season:

Summer

Party:

Iowa Mountaineers: E. Carter, C. Fisher, B. Merriam and C. Wilcox
Longitude: -114.9767 Latitude: 44.1010
Share this post ...