Elevation: 7,140 ft
Prominence: 1,390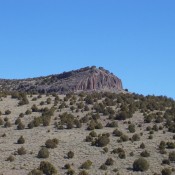 This peak is not in the book Cotterell Mountain is the highest point in the Cotterel Mountains a.k.a. the Malta Range. This area was identified in the book on page 349 but the peak was not covered. Rick Buagher provided the ascent report found below. Updated November 2018
---
Cotterell Mountain has a communication site near its summit and a road leads to the site. The peak has over a thousand feet of prominence and big views of a large swath of south central Idaho. The peak offers early season hiking and is of primary interest to those seeking the highest point in each Idaho mountain range. USGS Nibbs Creek
Rick Baugher 2007 Update
For the peak bagger southern Idaho's Cotterel Mountain el 7120+ is a
gimme, and if you collect range highpoints and prominences greater than
1000′, you are in luck.
From Idaho 77 at Connor Creek Summit el 5750′ a 4 mile road of the 2WD/4WD variety is passable much of the year to the telecommunications facilities on top. But why drive when you can walk? This is BLM land. Enjoy the sagebrush-juniper biome under a big blue sky. In Spring the sweet music of desert songbirds fills the air. A short half mile south of the com towers is Cotterel Knob el 7085′. This seemingly pristine basalt column is a much more interesting objective. From its volcanic perch you might wonder how the nearby Albion Mountains grew so tall. In fact, why is it that so many of the big mountain ranges in the Rocky-Great Basin complex have signs of volcanism lurking around their perimeters? Could these big mountains have resulted from molten plumes of magma pushed upward by the long gone subducted Farallon Plate? Perhaps we are now standing on the smoking gun that gave the Albion Mountains their lift. But enough
geologizing.
On the northern horizon is an unbroken wall of white stretching from Smoky Dome on the west to King Mountain in the east. For now, this is our "Sierra Nevada of Idaho". With binoculars you can spot a distinct highpoint. It can be understood from here how the early mapmakers thought Hyndman Peak was the highest mountain in Idaho. Rick Baugher, March 2007
Mountain Range: Albion Range
Longitude: -113.45609 Latitude: 42.36109
Share this post ...