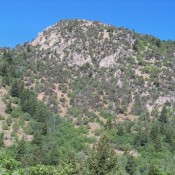 This peak is not in the book.
---
Rick Baugher provides the following report on the steepest peak in Onieda County.
'New Point' el 6940′, prominence 480′, has been identified as the steepest of the 93 peaks in Oneida County, Idaho. Its broken-cliff southwest face is easily seen from nearby Interstate 15. Even so, it flew under my radar for 30 years.
The summit overlooks the New Canyon gorge as it cuts through the west slope of the Oxford Peak section of Bannock Range. Because it is so overshadowed by higher terrain it looks more like a point than a peak. Apparently in the steepness game high elevation and prominence don't necessary correlate to high slope angle.
Despite its intimidating first impression, there is an easy way to the top of New Point. From the I-15 frontage road along Devil Creek, drive NE up the well graded Rattlesnake Road. As you approach the abrupt range front at the Caribou National Forest boundary, continue east up FSR 222 and into New Canyon. Pass through the gorge section and park at 6200′ in open country. From here, hike cross country NNW to gain a spur ridge. Follow this ridge spur south to reach the limestone perched summit.
On 8/5/12 I found remains of an old fenceline (early 20th century) that ended 100 yards shy of the unoccupied summit. A cairn & register were placed.
Mountain Range: Bannock Range
Longitude: -112.14329 Latitude: 42.28811
Share this post ...