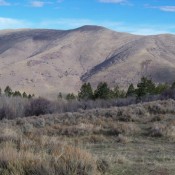 This peak is not in the book.
---
Rick Baugher's report on this peak follows:
In 1994 I was drawn to Camp Peak as part of the 'triangulation station recovery project'.
I ascended this cross country SW slope to reach Station 'Camp'. The peak name may have originated fro7726m wagon encampment days of the the Lander Trail. Photo date 10/30/14.
Survey work and subsequent computations were done by either Thomas Bannon or Herbert Hodgeson. Which surveyor was here in 1915? The USGS field reports don't specify.
Let's see if we can do some detective work.
On the summit of Camp Peak the report describes the station mark as 'Flagpole with cairn around base'. Check.
'Bronze triangulation tablet cemented in rock'. Check.
'Reference mark: chiseled cross in rock, distance 8.8 feet'. Check. (see lower left in above photo).
After visiting dozens of similar stations in ID-WY-MT, the individual quirks of the surveyor become apparent. He leaves footprints. Bannon was known to not stamp names or dates on benchmark tablets. Check. Bannon was known for his well crafted chiseled crosses. Check. We conclude, therefore, that Station Camp was occupied by TM Bannon.
Mountain Range: Peale Mountains
Longitude: -111.55179 Latitude: 42.96159
Share this post ...