Return to ARTICLE INDEX
---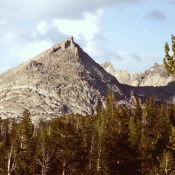 1983 was a transitional year as I gave up working for Federal land management agencies and enrolled in law school the first of September. Figuring that law school might impact my ability to spend time in the mountains I crammed as much as I could into summer. My summer included climbs at City of Rocks, peakbagging in southeastern Idaho, the Snake River Range, the Lemhi Range and the Bighorn Crags. The final trip was to the Wind River Mountains where Dana Hansen and I put in 50 miles and climbed three peaks.
We started this hike at the trailhead known as Big Sandy Opening in the central portion of the range. We were a bit rushed because we had to move from Idaho Falls to Moscow as soon as we got back.
Day One. Big Sandy Opening to Dads Lake. (6.0 miles.) We followed the Fremont Trail from the trailhead to Dads Lake where we found excellent camping.
Day Two. Dads Lake to Pyramid Lake. (10.0 miles.) This day's route continued on the Fremont Trail for a couple of miles and then branched off on the Pyramid Lake Trail. Pyramid Lake had excellent campsites. After setting up camp we climbed Midsummer Dome, 11,172 feet, which is roughly a half mile from the lake via its north side which was an easy Class 3 pull.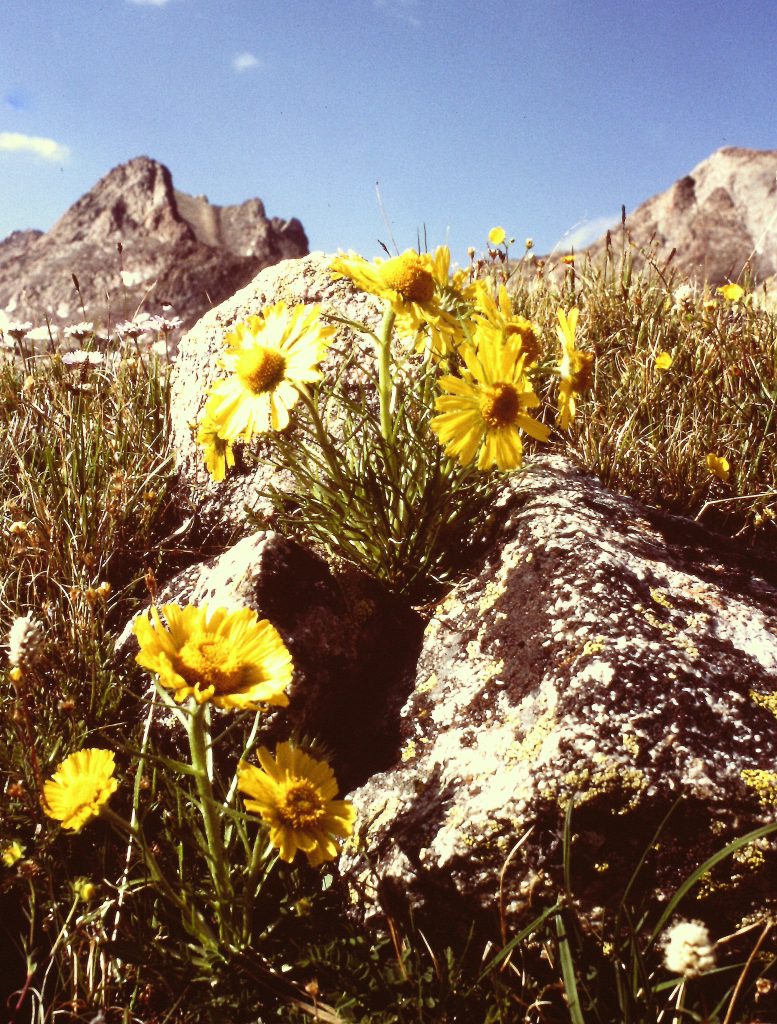 Day Three. Pyramid Lake to Baptiste Lake via Hailey Pass. (6.5.) In the morning we climbed Pyramid Peak, 12,030 feet, from our camp via the peak's southwest ridge which was a Class 2 stroll. We then broke camp and walked back down the Pyramid Lake Trail for a mile to catch the trail over Hailey Pass, 10,200 feet. On the pass we found the only on technical route up Mount Hooker, 12,504 feet, and took turns climbing it and dog sitting. The route from the pass utilizes a ledge system that allows a Class 3 ascent to peak's large summit plateau. After climbing the peak we followed the trail down to the Bear's Ears Trail which we followed to Baptiste Lake, 10,828 feet. The basin holding the lake sits below Mount Hooker's impressive north face which I believe is the biggest wall in Wyoming.
Day Four. Baptiste Lake to Graves Lake. (4.5.) On this short day we followed the Bear's Ears Trail east to massive Graves Lake, 9,964 feet.
Day Five. Grave Lake to Bear Lake. (13 Miles.) This day was our longest day as there was no intermediate camping spots. We started out taking the Bear's Ears Trail east unti we linked up with the Lizard Head Trail. The trail climbs up to nearly 12,000 feet and follows a ridge south before dropping down to Bear Lake. There was no tread for part of the way but the route was well marked by cairns. We were starting to feel the time crunch imposed by our impending move and so we walked by two peaks which would have been short climbs.
Day Six. Bear Lake to Big Sandy Opening. (10.0 miles.) Our last day took us through the iconic Cirque of the Towers. A good portion of the route traversing from Cirque of the Towers over Jackass Pass was trailless. and the use trail we followed was time consuming.
Our loop and side trips covered 50 miles.
---
Return to ARTICLE INDEX