---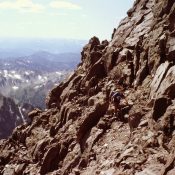 In 1985, Dana Hansen and I set off to climb Glacier Peak. Rather than making one of the long overnight approaches, we decided to turn the climb into a long backpack trip. We used the classic, 101 Hikes in the North Cascades by Ira Spring and Harvey Manning to plan our trip. After studying the various options we decided to approach the peak from the south. The Caddy Pass to White Pass entry in the guidebook was the clincher as the authors pointed out:
"Some argue this is the most beautiful segment of the entire Cascade Crest Trail. Certainly it offers one of the longest gentle meadow walks anywhere in the range. Where else can hikers wander at and above timberline a dozen miles, seldom dropping or climbing more than a few hundred feet, never with any difficulties, and always with a view?"
With that type of endorsement, on August 14th we packed and drove to the Little Wenatchee Ford Campground at 3,000 feet, hoisted our packs and hiked to Caddy Pass and the crest of the Cascades in 5 miles. We turned north and followed the Cascade Crest Trail/Pacific Crest Trail north toward Lake Sally Ann which was another 5 miles away. Along the way, we encountered a man on a mountain bike, the first I one I ever encountered in the mountains. The rider was perturbed because he said a Forest Service Ranger had tried to give him a ticket. He was, after all, in the Glacier Peak Wilderness. We continued along the trail, making a short detour to climb Skykomish Peak (6,368 feet) to take in the view. The guidebook's description of the scenery was spot on.
Lake Sally Ann was a beautiful camping spot, so we decided to keep our camp and day hike on Day 2. From the lake, we hiked north toward Blue Lake. We scrambled up the 3 peaks surrounding the lake: Johnson Mountain (6,721 feet), June Mountain (5,964 feet) and Peak 6562. The vast majority of our route was above treeline with great views, especially of our ultimate goal, Glacier Peak. All 3 peaks were Class 2 ascents. We hiked 14 miles by the time we returned to Lake Sally Ann.
On Day 3, we broke camp and hiked to White Pass (5,900 feet) where we found a nice campsite. After setting up camp, we climbed Kodak Peak (6,121 feet) and White Mountain (7,030 feet). We hiked 9 miles on Day 3. Interestingly, as we sat on White Mountain looking at Glacier Peak, we saw a jet fighter fly up the peak's East Slope, do a barrel roll over the summit and then dive down the peak's West Slopes. Clearly, this was a lot of a violation of wilderness values than the mountain biker.
Day 4 was our summit day. Our route from White Pass took us north over Peak 7739 to the White Chuck Glacier. We crossed the glacier roped up as there were plenty of visible crevasses and who knows how many hidden ones. From the glacier, we started up the South Ridge, climbing over the shattered rock subpeak known as Disappointment Peak (9,755 feet) and then on to the summit of Glacier Peak (10,541 feet). Glacier Peak is perhaps the most outstanding of the Cascade volcanic peaks because of a combination of its wilderness setting and classic shape.
As we sat on the summit enjoying a rest, I heard a roar. I reached for my camera but, alas, I was too late as a Navy A6 fighter jet did a barrel roll right over us and disappeared down the mountain in a proverbial flash. The 2 pilots in an A6 sit side by side and I could clearly see both of them as the plane was no more than 20 feet above us. I guess this is the most unusual encounter I have ever had on a mountain summit.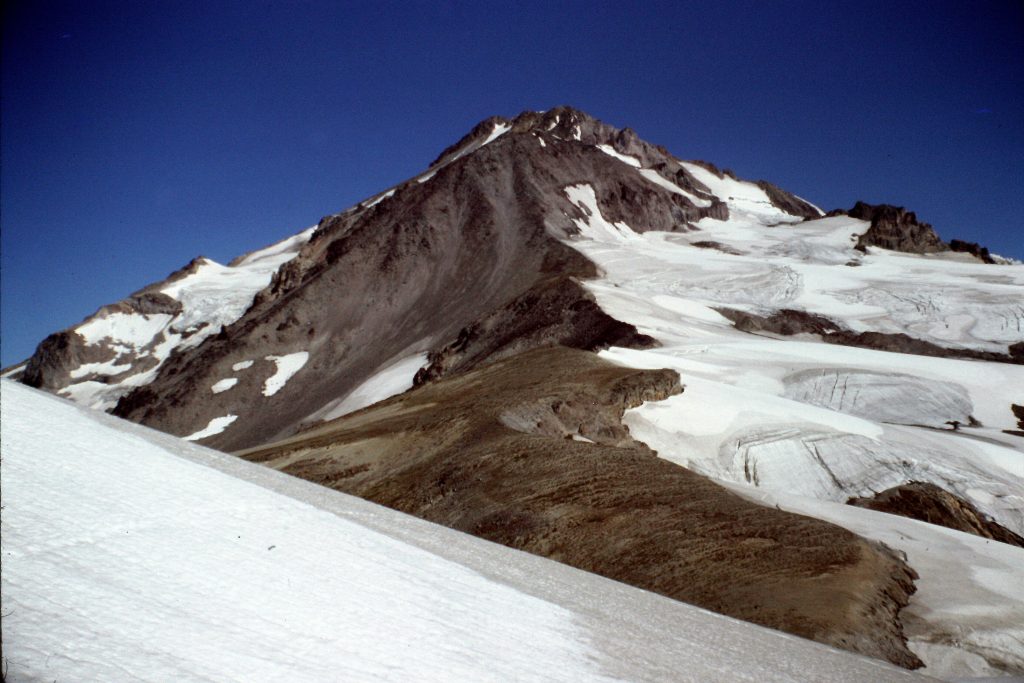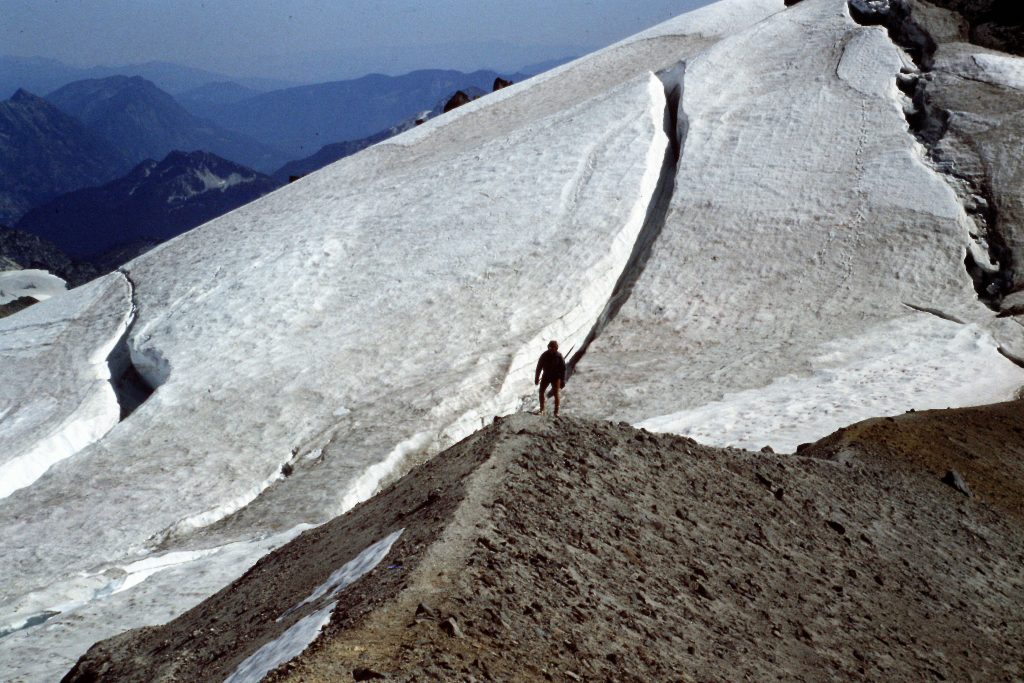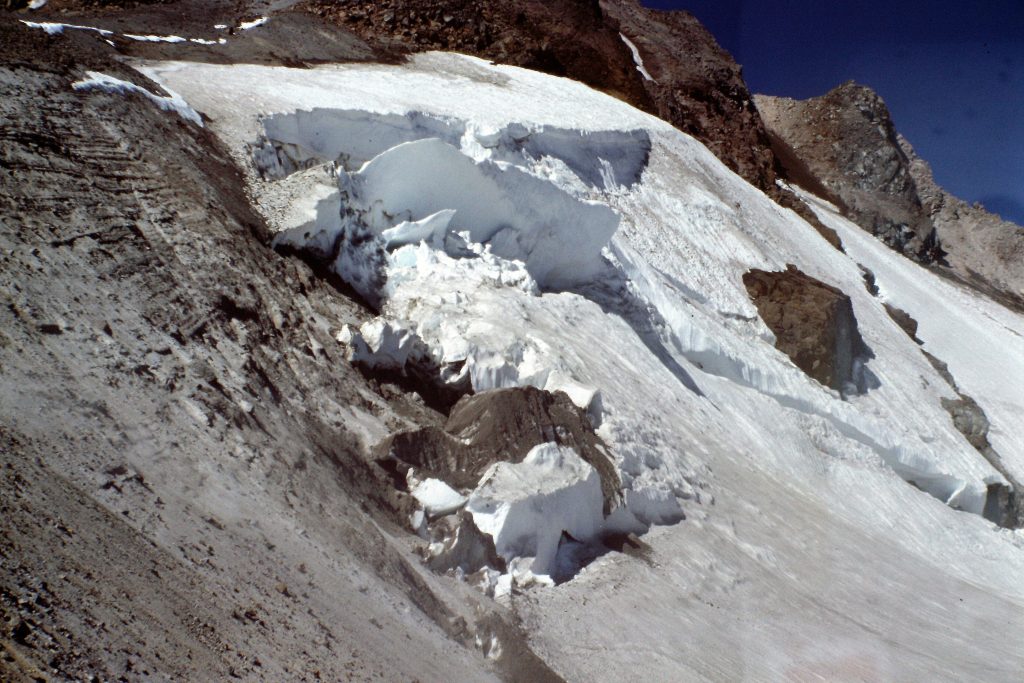 Because we had started a little late, gained more than 5,500 feet on our ascent and walked nearly 8 miles, taken time to rope up, put on and take off our crampons as we made the ascent and spent nearly 2 hours on the summit, we needed to make tracks back to camp before the sun set. On the way back, we got a little bit off course and by the time we corrected my error, it was starting to get dark. As the light faded completely away, our headlamp battery died. I kept a heading toward the western glow and we soon came across a use trail and then a tent. I recognized the tent as belonging to a couple of hikers we met the day before. By this time, I was beginning to doubt my route-finding abilities so I asked the occupants to clarify if we were going in the right direction. They confirmed that the use trail would lead us back to White Pass. So we stumbled along the poor tread until we reached camp. When we arrived at camp, we were exhausted but nevertheless broke out the schnapps and celebrated our success.
Day 5 was another long day. We climbed Portal Peak (6,999 feet) and hiked to Kodak Saddle in about 12 miles. I really don't remember much about the day other than it was our 5th straight day of perfect, cloudless weather. We set up camp on the saddle and decided to hike out via Poet Ridge the next day. The guidebook had described the Poet Ridge route as "mostly without tread" but "traversing open highlands." As an added incentive for taking this route, the ridge included several peaks we could ascend along the way.
On our final day, we awoke to low clouds and damp air. By the end of breakfast, it was misting. We started down Poet Ridge, first climbing over Peak 6052. So far we had found a decent tread but as we dropped off the peak the tread disappeared and the clouds descended cutting visibility too less than 20 feet. So much for the "open highlands." We followed the ridge for a while until the clouds opened up and the rain started to dampen our spirits. We then decided to give up on the remaining peaks and dropped off the ridge to descend to the Little Wenatchee River Trail. The line we chose dropped 2,000 feet on steep slopes with some poor footing but when we arrived at the trail, we felt that we had made the right decision. Our hike out dropped more than 3,000 feet in 10 miles.
Our hike took in 11 peaks (10 peaks if you don't Disappointment Peak which is no more than a bump on Glacier Peak's South Ridge) and covered 70 miles. We started and ended our hike at 3,000 feet and reached a high point of 10,541 feet. I have not added up the total elevation gain. I was young then and that seemed irrelevant.
---