Go to ARTICLE INDEX
---
In September 2007, Laurie and I took advantage of the concessionaire-operated High Sierra Camps to make a beautiful loop hike through Yosemite's backcountry. There are 5 backcountry resorts in Yosemite National Park. Four of the camps are located in the high country surrounding Tuolumne Meadows. These camps are popular and the concessionaire operates a lottery since there are so many people attempting to make a reservation. Currently you must apply for the lottery in September and October of the preceding year. In 2007, we discovered that there were openings in September and we were able to make reservations outside the lottery system. The downside of going in September is that the highest and most alpine camp (Vogelsang) was closed.
The camps vary in their amenities but each offers a dining hall or tent and wall tents on wooden platforms for sleeping as well as bathroom facilities. The camps that we stayed at had showers. Breakfast and dinner are included and the food was equal to or better than a high-end restaurant. I don't remember how much we paid but rates are now around $140/night per person. Guided trips are also offered now, including traveling by horseback.
Laurie and I put together a 34-mile loop stopping at the Glen Aulin, May Lake and Sunrise camps in 2007. If you do the entire loop visiting all 5 camps, it is a 52-mile loop. We carried light packs since all of the food and sleeping gear (other than a light sleeping bag) were provided. You will likely have to share a tent cabin with others so take earplugs.
The first day, we drove up the Tioga Road and arrived in Tuolumne Meadows about 9:00AM. We picked up our wilderness permit and then drove to our starting point at the Lembert Dome trailhead. If you leave your car anywhere in Tuolumne Meadows, be sure to take out anything resembling food and place it in a bear-proof box (provided at parking areas in the meadows). A friend of mine failed to remove all food from his auto and returned to find that a bear had broken into the car and that the Park Service had then impounded the car. Getting the food and anything that might smell out of your car is a serious undertaking in Yosemite. The Park's bears are relentless.
Our journey took us from Lembert Dome to the Glen Aulin Camp in 6 miles (most of it downhill) following the Tuolumne River through a granite wonderland. The Glen Aulin High Sierra Camp is located at 7,800 feet and is next to the Tuolumne River. At the camp, a waterfall and pool are the primary attractions along with a view of Mount Conness. That evening, we had an exceptional 3-course meal and shared a tent cabin with 2 other couples. We reserved 2 nights at Glen Aulin so we could explore the high country north of the camp the next day.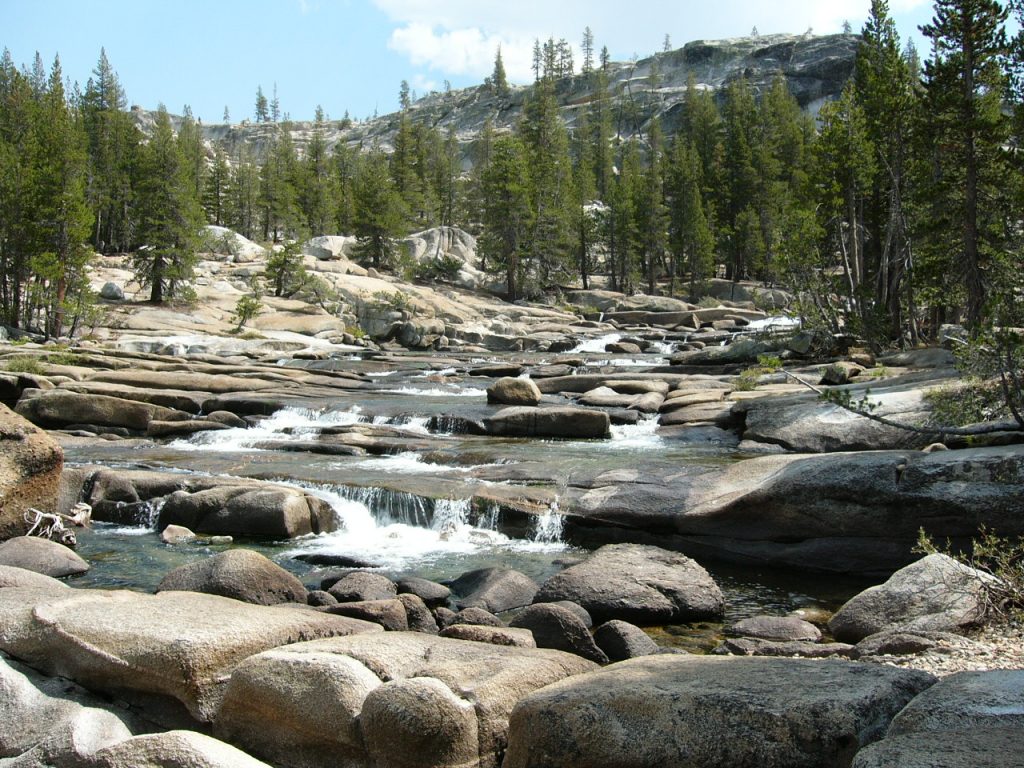 Our goal on Day 2 was an ascent of Cold Mountain (10,301 feet) which was roughly 5 miles north of the camp. This area of Yosemite is forested and views are limited. I had a topographic map covering our destination. I mentioned where we were going to the New Zealander running the camp. He was familiar with Cold Mountain and gave me directions that were unerring in their accuracy. This was a great help because the point where we needed to leave the John Muir Trail was heavily forested and I doubt that we would have easily determined where to turn without his directions. From the main trail, there was a good use trial to a small lake on the South Side of the peak. The route to the summit was easy to find from the lake.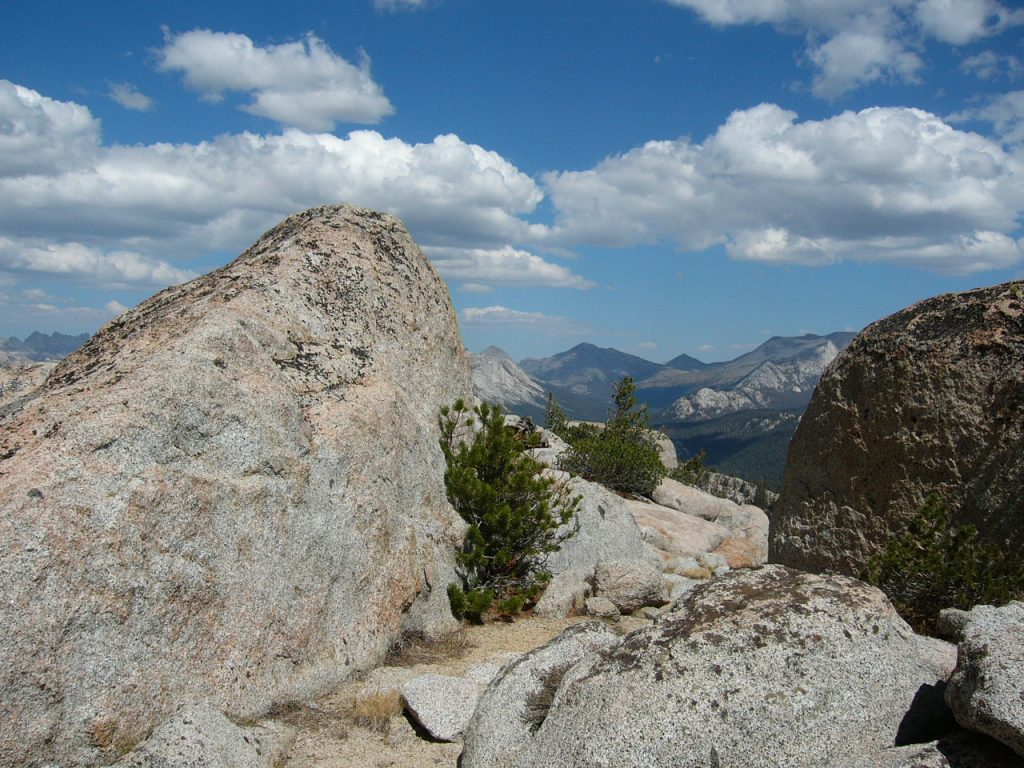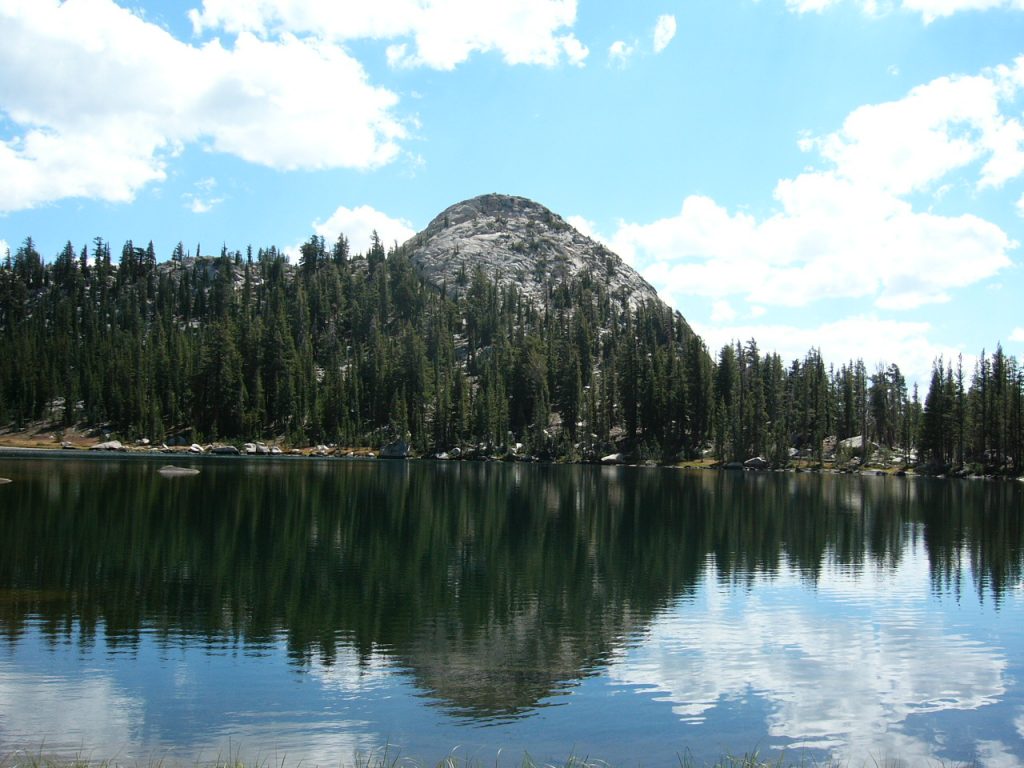 On Day 3, it was time to move to May Lake Camp. It was an 8.5-mile hike from Glen Aulin to May Lake. The trail was in good form the entire distance and mostly uphill, as we gained over 2,000 vertical feet and lost less than 1,000 vertical feet. After checking in at the camp, we hiked up the trail to the summit of Mount Hoffman (10,850 feet). This added another 2.5 miles to our day. May Lake Camp is only a mile from the nearest road and most of the people we met there had only hiked a mile to reach the camp. May Lake is a typical Sierra lake–beautiful in every respect. The camp facilities were good as was the food.
On Day 4, we hiked from May Lake to the south side of Tuolumne Meadows and arrived at Sunrise Camp after 9 miles. About a third of the way there, the trail crosses the Tioga Road. We gained and lost about 2,000 vertical feet along the way. Sunrise Camp is located at 9,400 feet and looks directly at Mount Florence.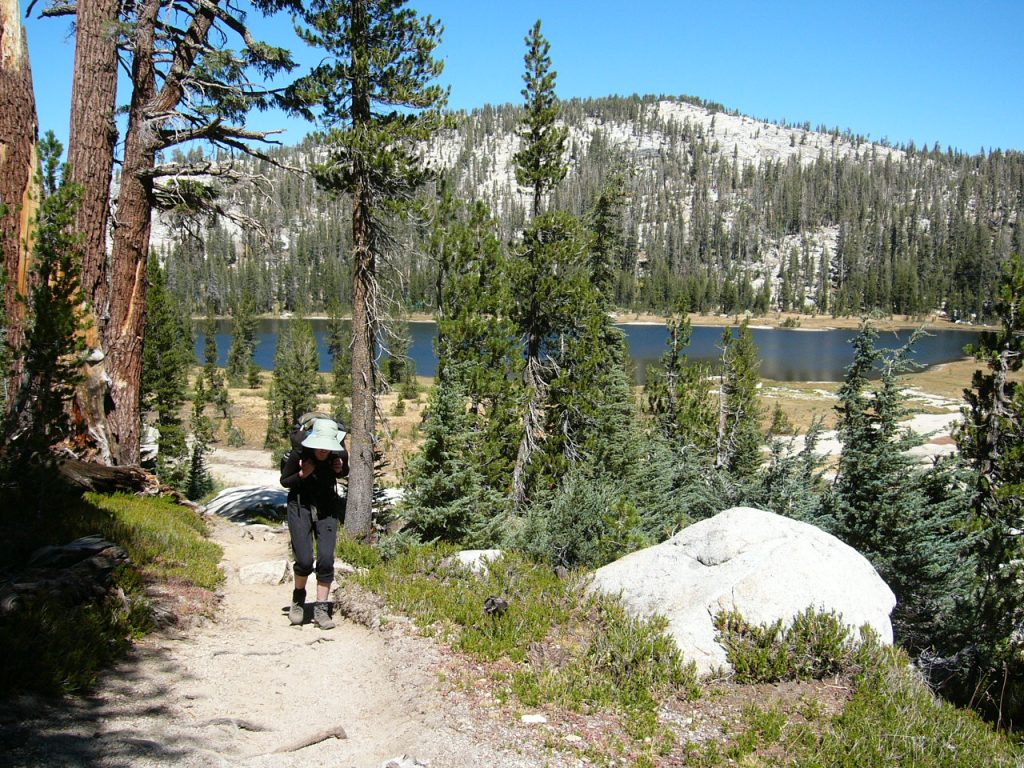 On our final day, we left Sunrise Camp early and headed back to Tuolumne Meadows. It was an 8-mile hike to the highway past Cathedral Rock. At the highway, we caught a shuttle bus back to the Lembert Dome trailhead. We found that our car had not been molested by bears but 2 other cars nearby had broken windows. I was not sure if this was caused by bears or thieves.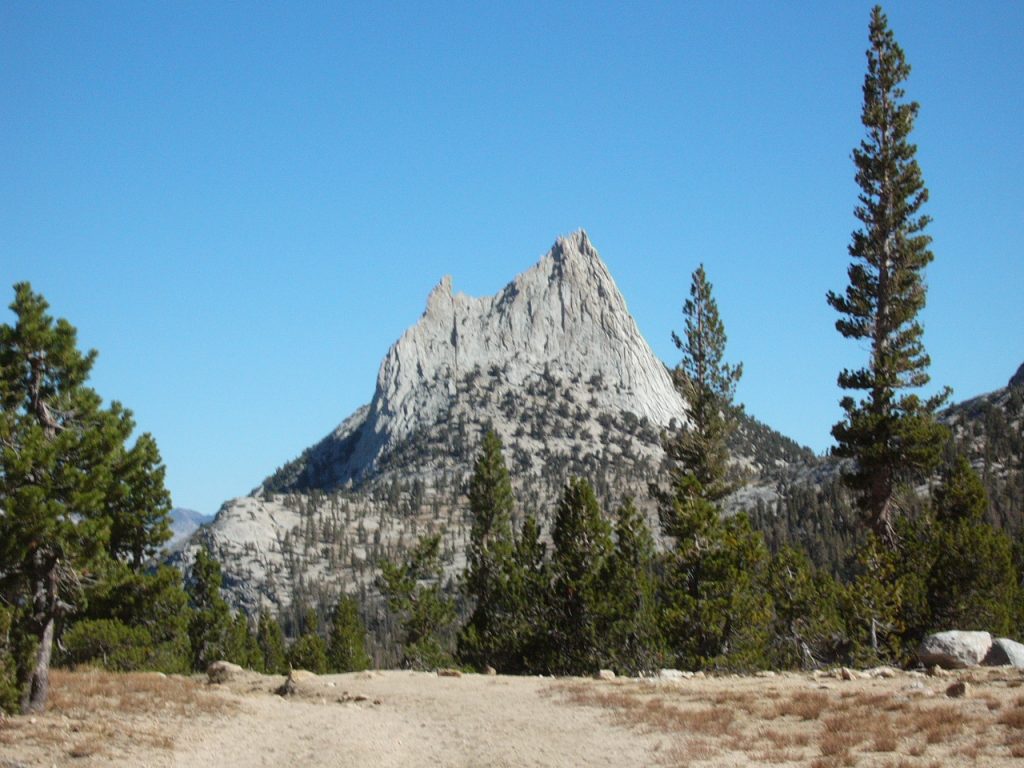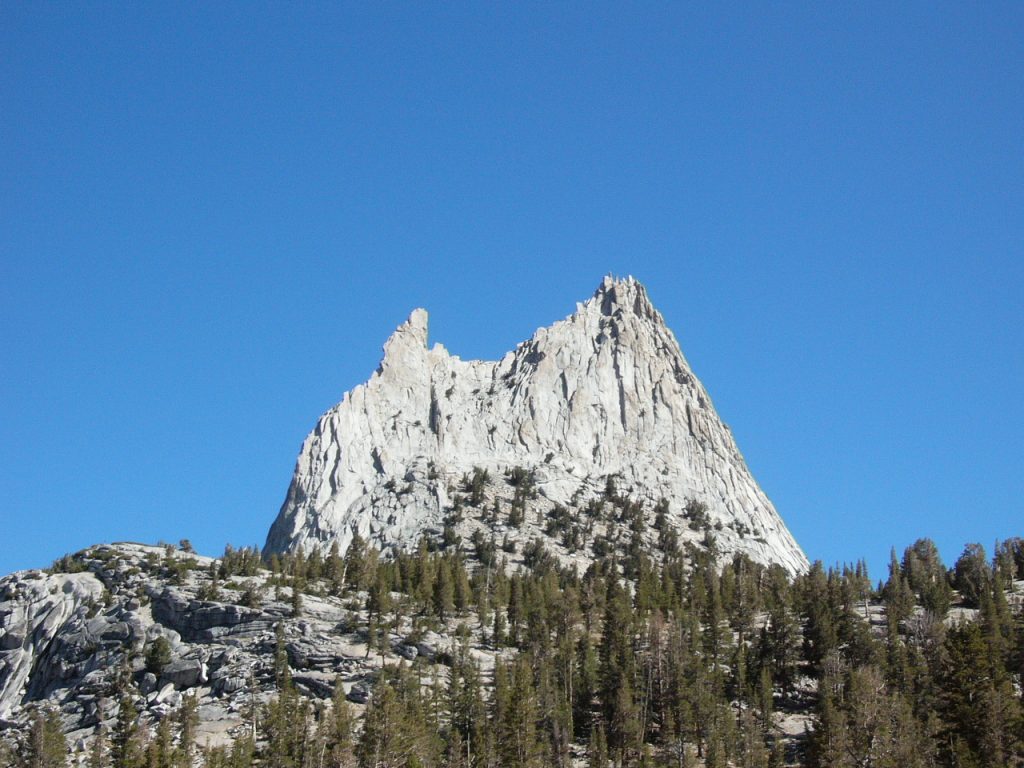 Using the High Sierra Camps to see Yosemite is a unique experience in this country. While the establishment of yurts in many mountainous areas is on the rise, I do not believe there is any other place in the U.S. with a similar setup. The food was great, the atmosphere was pleasant and the opportunity to meet a wide variety of hikers was rewarding.
---
Go to ARTICLE INDEX