Return to ARTICLE INDEX 
---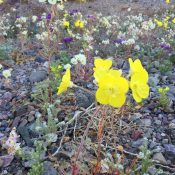 After a successful climbing trip to Death Valley in 2015, it was easy to convince John Platt to accompany me again. In 2015, we focused primarily on peaks that were spread all over Death Valley so that we could get a good feel for the entire Park. Our climbs that year often involved significant approach hikes and elevation gain.
In 2016, we put the knowledge we gained during the first trip to good use and focused on peaks that were clustered together so that we could climb several peaks each day. John prepared an extensive day-by-day account of our trip with a lot of good photos which you can find at this link: Warm and sunny times in February. 26 peaks in Death Valley. I will focus my ramblings in this article to an overview of the experience.
Death Valley is best known because of its designation as a National Park but it is just a small part of a vast region that spreads eastward from the Sierra Nevada to the Rocky Mountains and from the Mexican border to Oregon and Idaho. The northern two-thirds of this region is within the Great Basin. The southern third of the region is in the Mojave Desert and the basin of the Lower Colorado River.
The area found within the National Park is filled with superlative examples of Desert Southwest terrain. The Park straddles the California/Nevada border and is, in effect, an interface between the Great Basin and the Mojave Desert in the United States. The Park's desert environment includes salt flats, sand dunes, badlands, valleys, canyons, and most importantly for my purposes–mountains. Most of the Park is a designated Wilderness Area, the largest in the Contiguous 48 states. Death Valley is the hottest and driest of locations in the United States. Badwater Basin (which is 282 feet below sea level) is the lowest spot on the continent.
This region is a great place to escape an Idaho Winter. The area is, to no surprise, usually sunny, dry and clear year-round. From October through April, you can expect mild conditions with only an occasional Winter storm to interrupt great hiking weather. Although the Park's reputation overshadows the surrounding country, it is an incredible land of desert mountains. In 2016, we decided to focus on peaks that were for the most part in Nevada–some remote and some close to Beatty, Nevada. This trip occurred after the Park experienced a wet period and, as a result, we were treated to what was termed a "Super Bloom." This involved a once-in-a-decade bloom of wildflowers.
It is a 10-12 hour drive from Boise to the region around Death Valley, depending upon your stopping point. On Day 1 (February 20th), our destination was the base of Mount Jackson which is located north of Beatty. The drive took us 11 hours. We set up camp at the base of Mount Jackson as the sun set. On Day 2, we climbed Mount Jackson, Mount Dunfee and Peak 6413. Mount Jackson (6,412 feet) was the most distinctive peak we climbed. A band of cliffs completely surrounds the peak's plateau-like summit. Our roundabout route took us to the summit with minimal Class 3 climbing.
One of the most interesting cultural elements of the region is the mining history coupled with the modern-day humans that live in many of the ruins of abandoned mining towns. The next 2 peaks are located next to Gold Point (NV). I'm not sure how many people live full-time in this ramshackle pueblo but there were 2 bars and scores of vehicles parked here.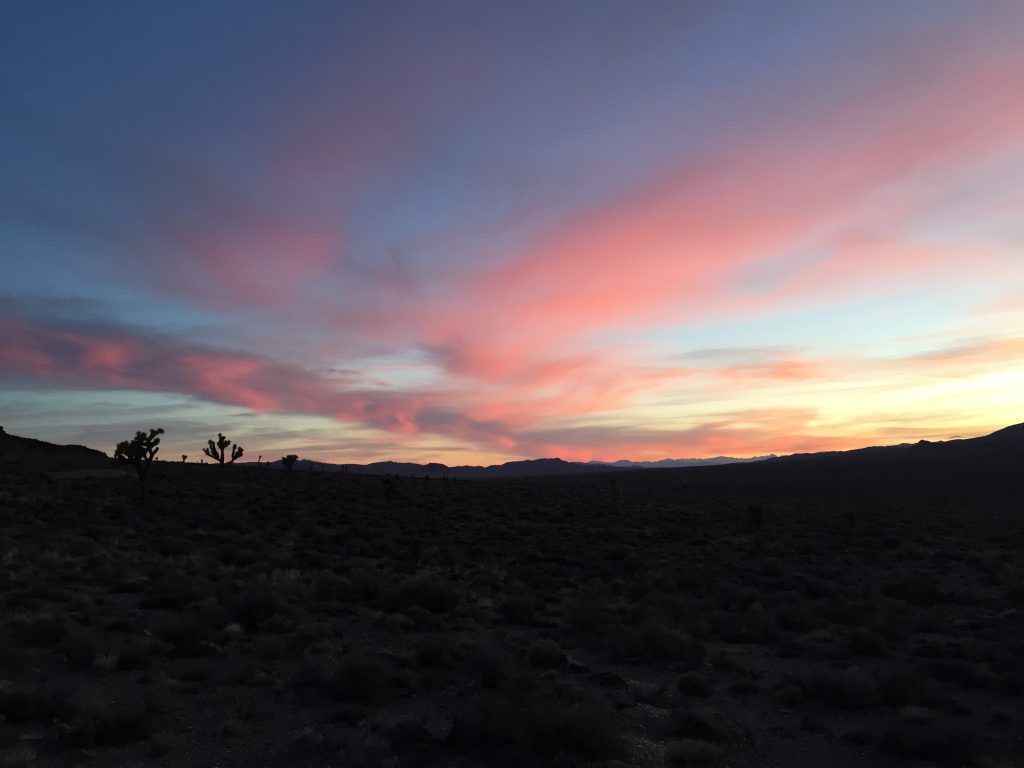 Mount Dunfee (7,030 feet) is located east of town. It was an easy Class 2 climb that is 4 miles round trip. From the summit of Mount Dunfee, we saw Peak 6413 sitting to the west of Gold Fork. It was a short climb–less than a mile round trip. The crux of the climb was determining which road was the correct approach.
On Day 3, we climbed Sawtooth Mountain, West Sawtooth Peak, Bullfrog Mountain, Burton Mountain and Velvet Peak. All 5 of these peaks are situated around the Rhyolite ghost town west of Beatty. I think it is safe to say that any peak named Sawtooth is going to be attractive to a mountain climber. This Sawtooth Mountain (6,005 feet) is no exception. It is a sharp, tooth-shaped summit. Unlike most peaks named "Sawtooth," this peak has electronic facilities near its summit and a steep, rugged 4WD road leading to the top.
We walked up the road, which ends at the peak's summit block. The summit block looked impregnable at first. We circled counterclockwise around the summit block looking for a 20-foot, Class 4 crack described in our guidebook. We came to a likely crack and John started to climb. I continued circling and found a ramp slanting back to my left. I climbed up the route which was Class 3 and arrived at the summit just ahead of John. We took a few photos and started down to get out of a fierce wind. West Sawtooth Peak (5,940 feet) was calling. We crossed down to the saddle and started up the peak's brushy, talus slopes toward the summit. We circled left around the cliffs that blocked our way and ascended the final few feet on the North Side.
Bullfrog Mountain (4,940 feet) was next on our list. We drove a short distance east of the Sawtooth Peaks to reach the base of Bullfrog Mountain. The short hike to the summit was an easy ridge walk complicated by the strong wind which fought us as we climbed up the ridge. After gaining 700 vertical feet, we were on top. What next?
Burton Mountain (4,381 feet) turned up next. Sometimes you just climb a peak because it's staring you in the face. After finishing Bullfrog Mountain, Burton Mountain was an easy choice. In less than a mile and 550 feet of elevation gain, we were on top. We had a great view of Beatty from the summit. Time to call it quits for the day? No! Velvet Peak (3,918 feet) was just west of Beatty and on our way back to the motel. Velvet was a short Class 3 scramble of less than a half-mile and just over 400 feet of elevation gain. It took us 40 minutes round trip. Time for a shower, food and drink.
On Day 4, we climbed Meiklejohn Peak (NV), Peak 5051/Red Peak (NV) and Beatty Mountain (NV). All of these peaks are southeast of Beatty (NV). We then drove to Chloride City, a ghost town high up in the mountains east of Death Valley. John added Peak 4860 after we arrived while I enjoyed our scenic camp.The first 3 peaks were accessed from Fluorspar Canyon southeast of Beatty. We started with Meiklejohn Peak (5,940 feet). We drove to a pass between Meiklejohn Peak and Bare Peak.
This was the steepest ascent so far. We climbed a steep gully clogged with brush and talus. The footing was dicey at times because. if we slipped, we fall into thorny, unforgiving brush. Peak 5051/Red Peak was next. The crux of this climb was driving to our starting point which included a huge open pit on questionable mining roads. Once at our starting point, it was an easy walk to the summit. Our Southeast-of-Beatty Trifecta finished appropriately with Beatty Peak (4,282 feet), another short Class 2 scramble with a view of our Beatty base camp.
After 2 days of luxury living in Beatty, it was time to use the camping gear again. We left Beatty and drove to Chloride City. We started out on the highway, graduated to a 2-track across gravel alluvial fans then a deep canyon and finally to a legitimate 4WD road that climbed over rocky outcrops to the ghost town. We set up camp and John was off to climb Peak 4860. I was satiated and stayed in camp.
On Day 5, we decided to climb all of the peaks around Chloride Cliff: Boundary Benchmark, Peak 5350, Peak 5140 and Peak 4900. As usual, John had energy to spare and he also climbed Peak 5020. First up was Chloride Cliff (5,260 feet). This peak has a mini road to the summit (not one that I was willing to drive) and there are mine shafts and holes all over its slopes. After a short walk, we reached the summit. Next up was Boundary Benchmark (5,464 feet) which is located east of the main crest. We followed a ridge east, dropping down to a connecting saddle and then straight up to the summit plateau. Once on top, we had a long walk south to the high point on this big, wide mountain.
Peak 5350 was our next destination. This involved a long walk to the north. With our sights on the next peak south and, as long as we were so far from the truck, we decided to continue on to Peak 5140, which just took us farther from our starting point. On our return trip, we decided to side-hill past Peak 5350. I am not sure that this long side-hill traverse was easier than going over Peak 5350 again. After the long hike, we returned to the truck where we had a great picnic lunch and a beer.
After lunch, it was time to drive back over the 4WD road which had not improved overnight. Once we got down off the bad road, we decided to do another peak. 5 peaks in a day is considered a rite of passage for some. We chose Peak 4900 via a route that climbed 1,300 feet to the summit in 2 miles. All told, we covered 10 miles on these 5 peaks. John thought he needed to climb one more peak and continued on to Peak 5020. I returned to the car, anxious to return to Beatty and my favorite saloon.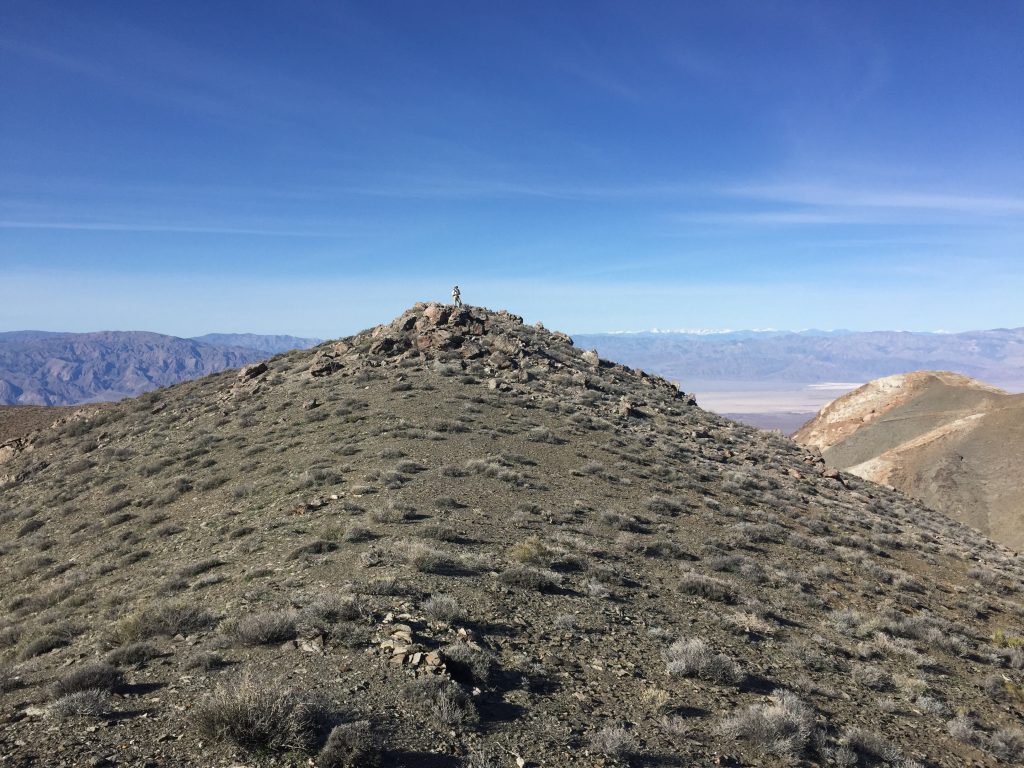 On Day 6, we climbed 4 more peaks: Par Pot Peak (NV), Block Peak (CA), Titanothere Peak (CA) and Peak 5260 (CA). In addition, John climbed and Red Pass Peak (CA). All of these peaks are along the Titus Canyon Road. Each ascent went easily. After descending Titus Canyon Road, we drove to the Montgomery Springs Campground and set up camp.
On Day 7, we were up early to climb The Loner (NV) and a peak identified as CA/NV Boundary Monument 93 . Both of these Death Valley peaks are located south of Daylight Pass. After these climbs, we were on the road heading home which took us past Tonopah, Nevada.Having driven through Tonopah many times, I knew there were peaks to climb. We arrived in mid-afternoon, bought some gas and found our way to the base of Mount Butler (7,185 feet)–a sharp summit on the West Side of town festooned with electronics facilities. We followed an access road partway up the peak until it was blocked by both a gate and a road.
The summit is located west of the antennas. We reached a steep gully that led straight up and left the road, climbing the gully to the ridge top. From this point, we made a steep Class 3 ascent to the very airy summit.Back at the car, we pushed on to Battle Mountain, Nevada. The next day we would return home with a short stop for John to run up Blue Mountain in Oregon. It was a blustery day and I knew that I was driving by the peak in June, so I delayed my ascent until then.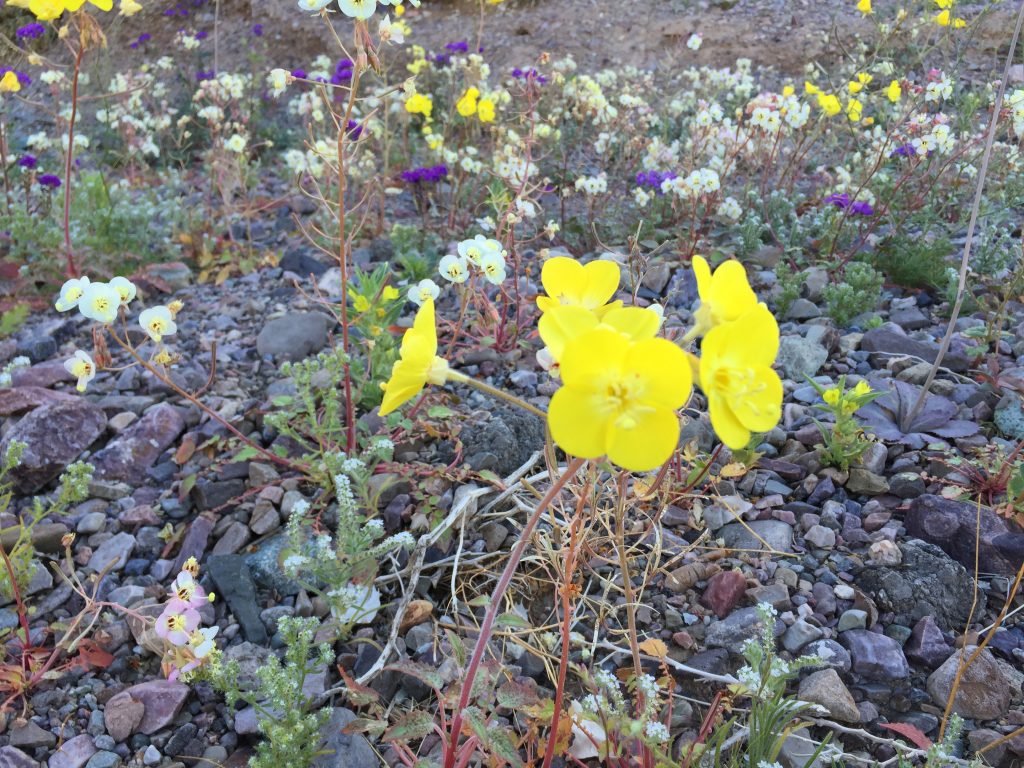 ---
Return to ARTICLE INDEX