---
Return to ARTICLES INDEX
---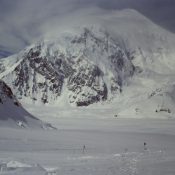 In 1987 I joined a second University of Idaho Expedition to Denali. In retrospect, the 1987 climb was doomed from the beginning. I was the only climber not living in Moscow and the leader, and extremely competent climber, evidently took a hands off approach to managing the planning aspects of the climb. Poor planning of the food, too many climbers in the team and several inexperienced climbers were the primary elements that doomed the climb. The food planners mostly brought food directly off grocery store shelves, like boxed spaghetti dinners and similar meals which they did not even bother to repack. The food was difficult to prepare in cold snowy conditions and worst of all, there was not nearly enough of it. In my climbing log I noted on the second day of trip that the food situation would likely keep us from making the summit.
---
Contents:
---
Here is an article by Dianna Armstrong  published in Idaho: The University, Vol. 5, No. 1.
5/22/87: Day One. Kahiltna Base. We are on the mountain. Early this morning the skies cleared and we flew into Kahiltna Base. By Noon the whole crew (13 climbers) had landed and our camp assembled. Our arrival was preceded by lots of bad stormy weather and one aborted flight on the evening of the 21st. The aborted flight turned into a bonanza for me–as I got two scenic flights for the price of one. Both times the views were inspiring.
5/23/87. Day Two: Our trip up the began today with a pull with full gear for four miles down the northeast fork to its junction with the main Kahiltna. Everyone did well on this mostly downhill part of the climb. We probably each had 140 pounds of equipment and gear. The team as a whole appears to be in good shape. Camp Two 7,700 feet.
The food situation is not good. The food we have is difficult to prepare with long preparation times and less than ideal for this type of climb. If we find ourselves in a storm it will be impossible to cook dinner.
The last time I camped at this spot we were snowed in for two days. Now, on this trip it is snowing again. Could the same thing happen again? It has snowed since 1pm and it seems to be snowing harder all the time. It is 11pm. Temperature 15 degrees.
I felt really good today–much better than two years ago. The extra running and the hills have made me tougher.
5/24/87. Day Three: It snowed all night and it is still snowing at 8.25am. It is doubtful that we will move today because of the snow and lack of visibility. The wind has started to blow. Time to shovel out around the tent.
9:41pm. The storm finally broke around 4pm which was too late to get moving. It looks like the weather will be good tomorrow.
The Alaska range is incredibly vast. The size cannot be captured by photos or maps. You must cross the vast landscape to understand the size. You must experience the climate to understand what total winter can be like–no vegetation, no insects, only an occasional bird and snow, snow, snow.
5/25/87. Day Four: [No entry today. We moved six miles up the glacier today without incident, built camp and then decided to do a carry of food and fuel further up the glacier.]
5/25-26/87. Days Four and Five: Disaster averted. Yesterday could have been the end of the expedition. What started out as s simple gear shuttle to 9,200 feet turned into a struggle on the glacier. The carry went smoothly. we dug a cache, left our loads and started back. After traveling a mile or so whiteout conditions settled in. On the way up we had wanded our route with bamboo sticks which were interspersed with another teams wands. The other team had descended ahead of us and pulled its wands. So, we now had to follow a route that was only partially wanded and where the snow quickly obliterated our tracks. After another couple of miles we could no longer find any of our stakes. When we came through under good conditions we had spotted a lot of crevasses in the area we were now entering. Our chances of returning to camp zeroed out and the weather was deteriorating.
Our leader took a compass bearing and we started up again in a direction that lead to who knows where. By this time we were all cold and the wind speed was increasing. After another mile it was apparent we needed shelter. So we started digging a hole in the glacier, we went down about eight feet and then dug horizontally to make a room big enough for all 13 of us. This was a big chore but it kept everyone warm and their minds off of potential consequences. It took us seven hours to dig such a big shelter (5pm to midnight). We had our sleds and packs to sit on but no sleeping gear. We only had snack food and I was hungry when we started. All in all it was a cold, miserable night that I will never for get. We kept our water from freezing and wondered when would the storm end and if it did not end soon, how long would we survive.
Today, the whiteout conditions ended and we spotted our camp out in the distance. It is luck we all survived and no one suffered frostbite. The team as a whole had good survival instincts but the mountain is way bigger than all of us. I dragged into camp–very hungry.
5/27/87 Day Six: today we are camped below Kahiltna Pass at 10,100 feet. For the first time it feels like we have made some real progress. This group is very slow. It is a good thing we have lots of time. We have blue sky for the first time. I am enjoying the warmth it brings.
It is zero degrees tonight. From now on we will be subjected to cold temperatures. It is too early to tell if we have a chance to reach the summit.
5/28/87 Day Seven: Noon–storm bound again. Based on radio communications it appears that this storm is confined to the lower elevations and it is clear above. Snowing heavily at 10,000 feet. Hoping for a clearing in the storm.
2:15pm. No let up in the storm. The wind is picking up some. It looks as if today is a lost day. My training regime worked. I believe I am in better shape than anyone else except Craig, the best young climber in the group. Even though the night in the snow cave took a lot out of me, I recovered. The biggest problem remains the food or lack there of.
5/29/87 Day Eight: 12:17am. The storm cleared around 7pm yesterday and we immediatley left to retrieve our food and fuel cache at 9,200 feet. We were back by 10:30pm. The ski in the low light and frigid air was spectacular. The weather has been horrendous and since it is the norm, nights like last night take on significance.
11:08am. We are packing and planning on taking everything up to 11,000 feet just below the first headwall. We had sun early on but it is gone now.
10:14pm. Completely settled in at our 11,000 foot camp. It took 2.5 hours to climb the thousand feet to this camp. A few of the team had a rough time with the steepness and the fresh snow. Several climbers descending from Genet Basin told us a five day storm was forecast, starting tomorrow. Yea!!!
5/30/87. Day Nine: Today we carried food up to Windy Corner in "perfect weather." Yes, we had good weather for the first time on the trip. If we have good weather tomorrow we will reach Genet Basin and 14,300 feet. From that point, the climb will actually start and all this necessary but time consuming trudging will be over. Conceivably, we could be on top in three days. Realistically, five days is more likely.
5/31/87. Day Ten: We are at 14,300 feet, at the base of the peak, six miles and 6,000 feet below the summit. I have my first headache of the trip. Dehydration or altitude? I don't know. Tomorrow we will pick up the Windy Corner cache which will help everyone acclimatize.
The weather was good again today. Lower down the mountain the land is covered with clouds. I imagine it is still snowing. The views are as spectacular as I remembered them.
6/1/87. Day Eleven: Today we brought up our cache. We are now in a position to push on to the summit. Three days of good weather are all we need. The weather forecast is for a high pressure system to move in. I will believe it when I see it. Today, it snowed until 6pm.
6/2/87. Day Twelve: Today we carried loads up to 16,000 feet and dug a cache. Lot of people on the headwall. Weather permitting we will climb to 17,200 tomorrow. It is impossible to not reflect on being in a similar position in 1985. Will the weather stop us?
Tonight zero degrees as we cooked dinner. I am still hungry. Not enough food.
6/3/87. Day Thirteen. Mike called for a rest day. Not sure who talked him into it. We should not waste a day at this point. The team is too diverse and some of the slow climbers should suck it up and stay at this camp. I don't see that happening. I feel as though I am losing the summit as I sit in camp being a good teammate.
6/4-5/87. Days Fourteen and Fifteen. [No entries. Twelve of us made it to the 17,200 foot camp. One stayed down at Genet Basin keeping a tent. Thus, we are now sleeping four climbers to each VE-24 tent. If you think three is too many for these tents (like I do) you will know four is way to many. Anyway on the 4th we successfully moved camp up to 17,200. It was the best weather day of the entire trip. It should have been our summit day. On the 5th, we woke up to deteriorating weather but started out for the summit with three rope teams. The expedition leader was sick and stayed in camp so we had two ropes of four and one of three. I was in charge at this point and brought up the rear. As we approached Denali Pass the first two ropes turned around. My rope continued on to the pass. At the pass the wind was likely exceeding 50 mph. My rope had the three most experienced climbers and we started up from the pass but around 18,400 feet we surrendered to the wind and turned around. It was a good decision as the wind was creating ground blizzard conditions and probably blowing a lot harder 2,000 feet above the pass. The next day, I took two sick climbers down to the 14,300 camp as the weather continued to deteriorate. The rest of the team came down the next day. Out of food-we were done.]
6/6/87. Day Sixrteen. A restless night and a bad headache. I can now report that the climb is over. The morning weather forecast convinced me to go down. I came down with three other climbers earlier this afternoon. Two were sick and one was realized he was out of his depth. Seven climbers and Mike are still at the high camp, planning on a summit attempt tomorrow? Why not today?
6/7/87. Day Seventeen. We moved down to 11,000 feet after the remainder of the team surprised us and arrived in camp at Noon. Tomorrow, weather permitting we will ski out to Kahiltna Base. We have only a little food left.
6/8/87. Day Eighteen. Mike, Craig and I teamed up and made a bee line to Kahiltna Base. We arrived in snow storm, famished. We quickly dug up emergency cache and fired up a stove. Mike was so hungry he started to eat a freeze dry meal we found in the cache without adding water. We were resigned to spending the night when we heard a plane overhead. Looking out the tent, we saw a break in the clouds. Let's get the hell out of here. We packed in a flash and climbed into the plane. I'm writing this in Talkeetna, drinking a beer.