Go To ARTICLE INDEX
---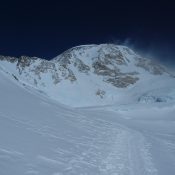 In 2009 I joined with John Platt, his brother Tom and Tom Martin to attempt Denali. At the time I only knew John and not well. After two unsuccessful attempts on the mountain (1985 and 1987), I was hopeful that this group would make a strong team with the endurance to successfully make the summit. On paper it was a strong team. My three companions were all formerly high level, successful bicycle racers in great shape. Denali can humble even the strongest climbers and so to be successful you need desire, patience, staying power and a bit of luck with the weather. Finding climbers willing to commit to an expedition is often a stumbling block that is impossible to over come. In this instance, putting a team together was easy.  The following discussion, some written before the trip and some after, tells the story.
Topics
Pre-Trip Discussion.
Post Trip Reflections and Photos.
Training.
Equipment.
PRE-TRIP DISCUSSION.
Here I go again! Denali? Am I crazy? Well, I am 57 and I have not been on a major glacier climb since 2001 or climbed in Alaska since climbing in the Saint Elias Range in 1992. Yet, I have never stopped climbing or lost my desire to climb. But Denali? I attempted the peak in 1985 and 1987. Both trips were great adventures but ended short of the summit.
The weather knocked out the 1985 team out of contention. The entire approach was dogged by snow storms which kept the team pinned down for days on the lower glacier. After arriving at our 14,300 advanced base camp, the last staging area before the summit push, we were anxious to push on. We carried loads to 16,400 feet in good weather. The next day we moved up to the 17,200 foot camp in good weather. The next day a storm came in and pinned us down for four long days. The wind and ground blizzard the rage for too long and sucked our physical and mental strength. When the storm subsided momentarily, our food and fuel were depleted and we abandoned the climb. It was a good decision as we only had a 12-hour break before the storm picked up. When we returned to our 11,000 foot cache, which was marked by an eight-foot wand, only six inches of the wand were visible above the new snow level.
In retrospect, the 1987 climb was doomed from the beginning. I was the only climber not living in Moscow and the leader, and extremely competent climber evidently took a hands off approach to managing the planning aspects of the climb. Poor planning of the food, too many climbers in the team and several inexperienced climbers were the primary elements that doomed the climb. The food planners mostly brought food directly off grocery store shelves, like boxed spaghetti dinners and similar meals which they did not even bother to repack. The food was difficult to prepare in cold snowy conditions and worst of all, there was not nearly enough of it. In my climbing log I noted on the second day of trip that the food situation would likely keep us from making the summit.
Snow storms and blizzard conditions slowed us down as we moved up the glacier but we pushed on. I will say that for the first ten days everyone was enthusiastic and team spirited After 10 days we made it to 14,000. We were pinned down by the weather for two days. On June 2nd, we carried loads to 16,800 feet. The carry wiped out most of the team and we had to take the 3rd as a rest day. I noted we only had six days of inadequate food left. On the 4th we moved camp up to 17,200. It was the best day of the entire trip. It should have been our summit day. The next day, we woke up to deteriorating weather but started out for the summit with three rope teams. The expedition leader was sick and stayed in camp. At Denali Pass the wind was exceeding 50 mph. Two rope teams turned around without consultation of the 3rd team, my team. My rope had the three most experienced climbers and we started up from the pass but around 18,000 feet we surrendered to the wind and turned around. It was a good decision as the wind was creating ground blizzard conditions and probably blowing a lot harder 2,000 feet above the pass. The next day, I took three sick climbers down to the 14,300 camp as the weather continued to deteriorate. The rest of the team came down the next day. Out of food–we were done.
So why at 57 go at it again? Was I suffering from a "Mid-life crisis?" (At 57, I am probably past mid-life.) Crazy? One friend asked "Don't ya think you've done enough? There are no answers to these questions. I climb because I enjoy it. The idea of returning to Denali, first came to me in early 2008 when reading about a winter climbing trip on Dan Robbins' Idaho Summits bulletin board. I raised the idea with Dan and with John Platt. Both are rabid peak baggers. Dan, while interested, could not consider it due to job and family commitments. John was all ears. John I skied together on a week day soon after and discussed the idea with some enthusiasm. However, shortly thereafter I started having medical symptoms which were eventually diagnosed as prostate cancer. Due to the symptoms and lack of time to prepare, I gave up on the idea for 2008.
The lure of Denali never left my mind. In August Laurie and I did a long hard backpack in the Sierra Nevada and I did well carrying a heavy pack which is a skill of absolute necessity for Denali. Still, I had to undergo radiation treatment before I could really think about Denali again. The treatment ran from mid August until late October. I was slowed by the side effects of the treatment but kept riding my bike and even did a little hiking–including a climb of a 10,000 foot peak on my birthday. The first of November, a week after the treatments ended, I was on a climb with John, his brother Tom and Michael Pelton. The upper peak was covered with snow and moving across the steep slopes and climbing a short chimney, I knew in my heart that Denali was back on the table.
Soon after the climb John and I were exchanging e-mails about a possible trip. I did my best to point out that the trip would involve three to four weeks of suffering with no guarantee of success. John and Tom came over at Christmas break to look at my Denali slides. I also showed them my South American climbing slides to show them you could climb big glacier-covered peaks in good weather. The more I tried to dissuade them, the more committed they became. We set a date of January 15th to make a commitment. However, I knew when they left my house I knew I was going to go and I suspected they had already decided to go.
John signed up his friend Tom Martin as our fourth climber and by January 15th we were already well into planning the trip. Most of my expedition equipment had remained unused in the basement for the last 10 years, including my sled and boots. Gear technology has improved a great deal in the last 20 years. I immediately decided to take advantage of new boot technology and also to upgrade my down coat and gloves. There is nothing that gets me more excited about a major climb than buying more equipment.
As of April 28th, I have a clean prognosis from my Doctor and the "Tom Tom Club" (John's name for our group) was ready to go.
POST TRIP REFLECTIONS.
We were on the mountain from 5/10 to 5/19. We left with 15 days of unused food.
"Everyone wants to go to heaven but no one wants to die."
This lyric from an old blues song is an appropriate summation of the 2009 effort. It's a long way from the landing strip on the Southeast Fork of the Kahiltna Glacier to the summit and the distance is not measured in just miles. The 2009 attempt was unsuccessful, disappointing and an object lesson in how climbing teams must have equal levels of commitment. Our team failed the commitment test. Although I am now zero for three on this big peak, I once again established that I can still endure hardship and that I still had the tolerance for misery. Climbing Denali is all about commitment, endurance, patience and a tolerance for suffering. If you do not have all four qualities do not go.
All four of us were in good shape and did well physically. Physical conditioning was not the problem. Our age, a combined 204 years, was not a factor in our defeat. We passed other rope teams of younger climbers on several occasions and I can only remember one rope team overtaking us. We all adjusted to the altitude. The planning effort was, if anything, too successful. We lacked for nothing and instead had too much food–which is not a bad thing.
We arrived at 14,200 feet on the seventh day, which was three days faster than my best time on earlier trips. We had eight days of food and lots of fuel either at the 14,300 foot advanced base camp in Genet Basin and more food cached 30 minutes below camp near Windy Corner.
After a bit of discussion we decided to make an attempt on the summit from 14,300. The thinking was that if we were moving fast enough we could make it with light packs and if we did not move fast enough, the effort would help us acclimatize. One rule of thumb is to climb high and sleep low. We had a beautiful day and climbed to 17,200 feet in 5.5 hours. I thought we climbed strongly. Clearly, we were faster than many groups as we worked up the headwall and the fixed ropes. I do not think that any of us thought we could make the summit on the first try because we had only spent one day at 14,000 feet. Still, we climbed up and down the most treacherous part of the route. I thought it was a victory.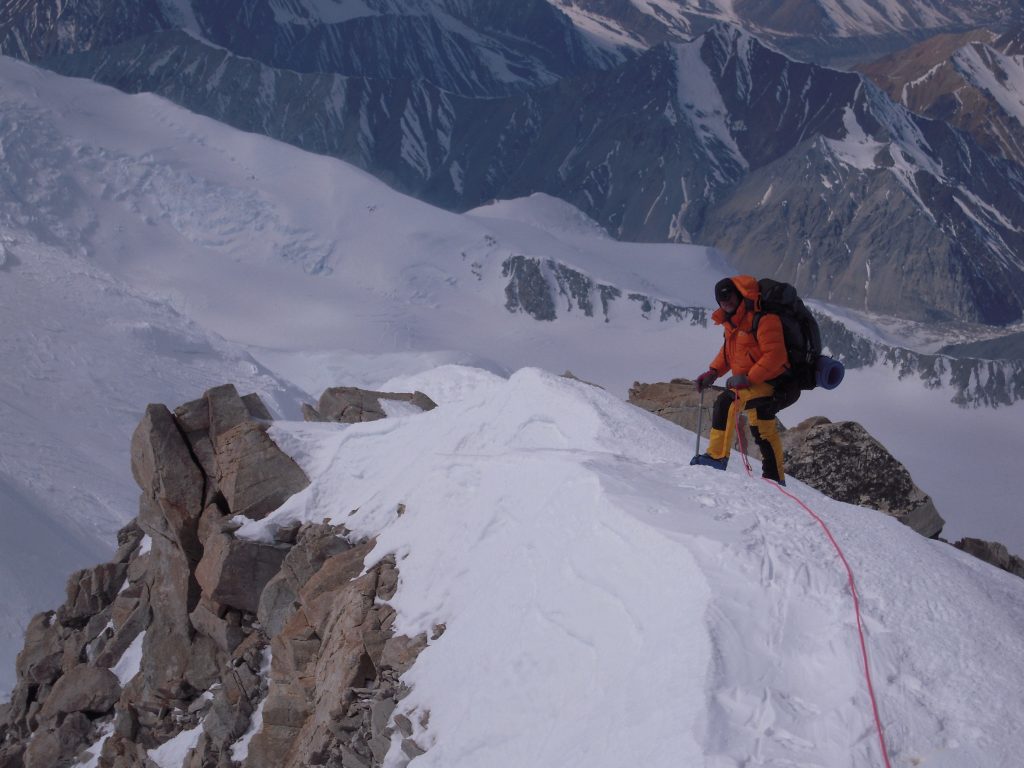 Back at base camp we digested a weather report that said a weak weather system would impact the mountain over the next three days. It did not sound serious to me and our location was the perfect spot to wait out a storm. However, my three teammates made the decision to abandon the climb based on the weather report. I was flabbergasted and angry. We had over half our food left, plenty of fuel–enough for another 12 days. Nothing I said changed their minds. So, on the threshold of success, we skied out the next day. In fact, they were so ready to leave that we skied out all the way to Kahiltna Base in one day.
During the climb there was clearly disagreement over those who wanted to power up the mountain with single carries of all of our equipment and me. I counsel that we carry high, sleep low, leap frogging our way up the mountain. I also thought we should take an extra day or two getting to Genet Basin as you cannot underestimate the value of better acclimatization. While I do not believe that the two full carry days (from the landing strip to 7,800 feet and up Ski Hill) adversely affected our conditioning, it clearly increased the suffering associated with the lower glacier slog. Pulling that weight up Ski Hill caused me to develop bad blisters on both of my heals and forced me to stay in camp one day.
We had great weather. In 13 days we received only a couple of inch of snow. In 1985 I experienced several feet of snow on several different days. We had some wind but it was all below 40 mph and we had a lot of windless time on the mountain. As someone commented "a 40 mile an hour wind is a mere breeze on Denali."
My climbing partners were all strong climbers capable of pulling big loads and working as a team. All of them are stronger than me. Tom Martin in particular is stronger than a mule and always pulled the biggest load. Tom Platt, although the smallest team member proved he could constantly pull heavy loads and keep going. My teammates also trained hard and as bicycle racers they had pushed themselves through walls of pain unknown to most humans. John Platt did a great job organizing the trip. He is a good natured and component climber. None of this was enough. After 12 days they were ready to go.
TRAINING.
A few words about training: In 1985 running was my main training exercise. From January 1st until we left, I ran 402 miles. I also got in 20 miles crosscountry skiing and a 18-mile backpack in March. In mid-April the team made a successful training ascent of Mount Hood. In 1987 I ran more than 534 miles from the first of January until leaving for Alaska. Many of the runs were in the Boise foothills. The longest run was 12 miles. I also added 40 miles crosscountry skiing and 20 miles of hiking. I was probably in the best shape of my life for the 1987 trip.
I know physically it is impossible to be as strong at 57 as I was at 36. Still, the goal is to get as close as possible. I no longer run and instead I relied on bike riding for my main cardio vascular training. Since it is at least a 500-foot climb to get up the hill to my house, it is good training. I have supplemented my bike riding with hiking, XC skiing, weight lifting and yoga. I want to avoid burnout and so I envision my training to peak about two weeks before we left. I believe the weight training and yoga were as important as the cardio vascular training.
Perhaps nothing is more important than having a positive mental attitude when approaching a peak like Denali. In this respect I feel like I was well above my teammates. I have much more climbing experience now than I did in the mid-80s and I knew what to expect on Denali. I knew I could hang out in a tent for days waiting for good weather. Many people do not have this skill.
As of April 30th I rode my bike, hiked or backcountry skied 1002 miles, made 12 ascents of peaks in the Boise area and totaled about 65,000 feet of elevation gain (a nearly even split between hiking and bike riding). If you think this sounds impressive, keep in mind that Tom Platt rode a bike 500+ miles in one week this spring and John climbed more peaks than I did and carried a 70lb pack to the top on many of his climbs. Still I am satisfied with my effort which was designed to toughen me to midsummer conditioning before departure.

DENALI 2009 EQUIPMENT
SLEEPING GEAR
1) NF Inferno / compression stuff sack.
2) Bivy bag.
3) Vapor Barrier liner.
4) Thermarest Pad
5) Blue Pad
6) VE 25 with extra poles, extra cord, ripstop tape.
Weight 19.5lbs.
SKI EQUIPMENT
1) Downhill Skis
2) Poles
3) Skins
4) repair kit. (Skis, crampons, stove, include sewing kit)
Weight 11.0 lbs.
FOOTWEAR
1) Spantik Boots
2) Over boots
3) Crampons
4) 3 liner socks
5) 3 wool socks.
6) Vapor barrier socks.
7) Small container of foot powder.
8) Down Booties.
Weight 9.0 lbs.
HEAD AND HANDS
1) Expedition mitts
2) Expedition gloves.
3) Chemical handwarmer (4).
4) Light gloves
5) Medium gloves.
6) OR hat.
7) Face mask.
8) Goggles.
9) Glacier Sunglasses.
Weight 5.0 lbs.
CLIMBING GEAR
1) Ice Axe & picket
2) Climbing harness
3) 6 carabineers (2 locking).
4) Jumars with prusick slings
5) 3 additional slings
6) Rope
Weight 10.5 lbs.
OUTWEAR
1) NF Parka and bibs.
2) MH down coat.
3) pile bigs
4) blue pile jacket or blue rei jacket.
5) lightweight polypro
6) Heavy polypro
7) 3 pair underpants (polypro).
Weight 8.0 lbs.
COOKWEAR
1) 2 qt pan.
2) REI insulated cup and measuring cup.
3) large plastic spoon.
4) 2 water bottles and insulated bags /duct tap.
Weight 3.5 lbs.
FIRST AID
1) Suntan lotion and lip cream
2) toothbrush and paste
3) moleskin
4) band aids
5) Medicine (lomotil, air sickness pills, sudafed, 100 Ibs, 3 rolls of tums, vitamins, eye goop, tinactin,
Weight 2.0 lbs.
MISC.
1) Earplugs
2) paperback books
3) camera.
4) paper and pencil
5) map and route info.
6) Ipod and solar charger.
7) Shovel
8) Picket
9) TP
Weight 8.0 lbs.
PACK AND SLED
1) Mountainsmith sled. –add back loop for carabineer.
2) Dana design or kelty pack.
3) 2 compression stuff sacks.
Weight 20.5 lbs.
Total weight minus food, 96.5 lbs.
Go to ARTICLE INDEX