Return to ARTICLE INDEX
---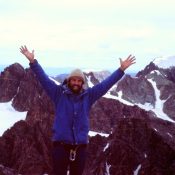 This was my first chance to return to the Wind River Mountains since I finished law school. We planned for nine days mostly in Titcomb Basin. My goals were to climb peaks surrounding the basin as a follow up to my 1982 trip. (See Completing the Wyoming Trifecta.) Mount Helen, Mount Woodrow Wilson and Jackson Peak were high on my list. I was accompanied by Dana Hansen, my sister Sandy and her husband Dave. We met in Pinedale and began our hike on August 8th.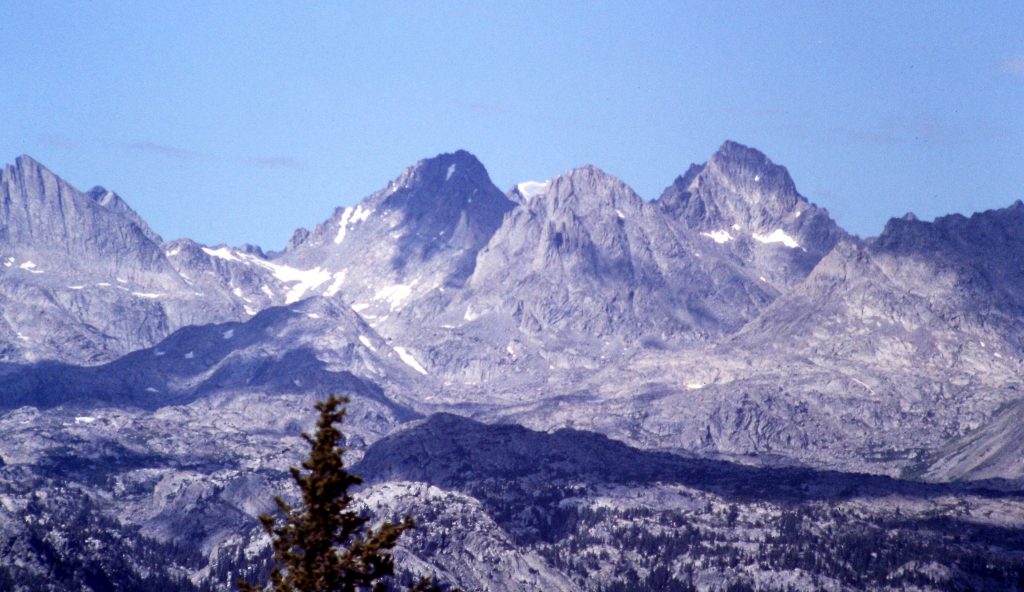 Day One: Elkhart Park to Seneca Lake. (9.0 miles). We followed the worn trail to Seneca Lake which is a good day hike when carrying the additional weight of a rope and climbing gear.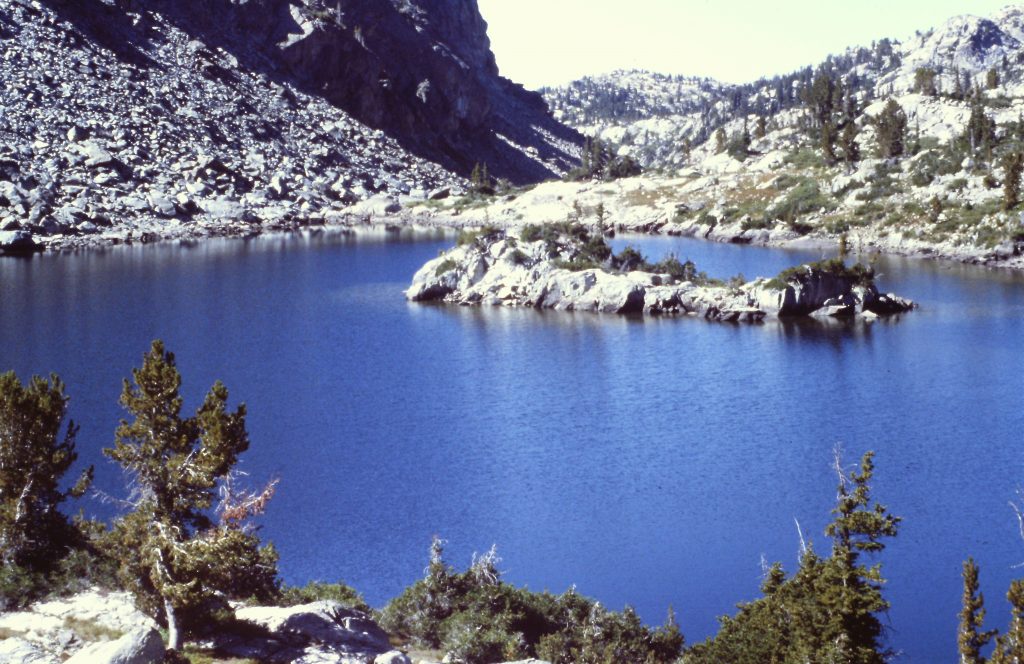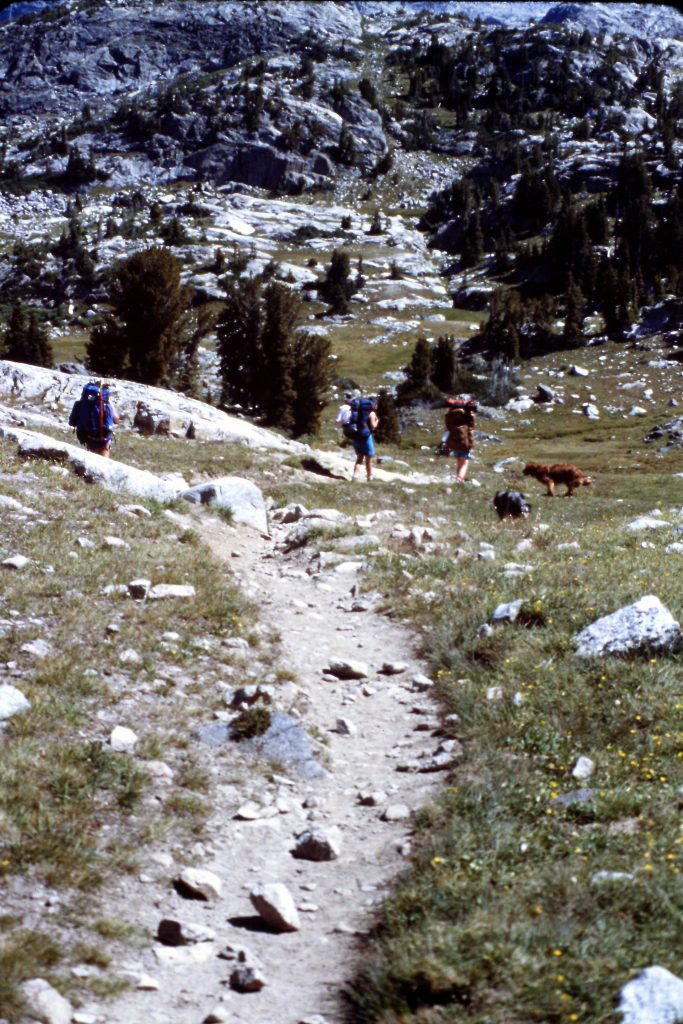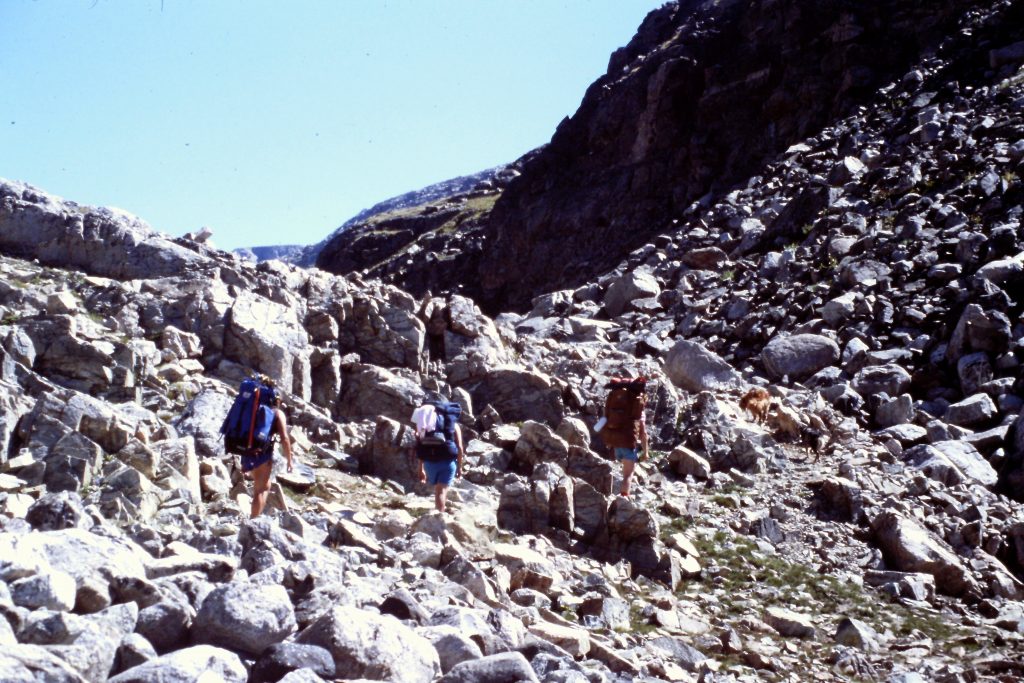 Day Two: Seneca Lake to Titcomb Basin. (6.0 miles) Arriving back in this alpine wonderland was as good as any homecoming. We found our 1982 campsite untouched and set up camp.
Day Three: Mount Helen Attempt. (4.0 miles) Climbing in the Wind River Mountains is always at the mercy of the weather. On this day the weather gods frowned on us. By the time we arrived at the base of the climb, thunder and lightening swept in over the ridge above us. We tried waiting the storm out but gave up after two hours.
Day Four: Jackson Peak Attempt. (10.0 miles) We left our camp heading east crosscountry, crossed a ridge and dropped into Indian Basin. In the basin we linked up with the Indian Pass Trail which we followed to Indian Pass. After taking in the view of the building thunderheads we dropped back down the trial to the highest lake along the trail. The weather continued to deteriorate and Dana and Sandy decided to call it a day and headed off to camp. Dave and I decided to make a run for the summit. We got within 500 vertical feet of the summit when a storm swept in and pinned us in an alcove. We waited through rain, hail, snow and abundant lightning for over an hour. There was a slight break between storm cells and we briefly considered starting up again but a big flash of lightning and the following thunder made us reconsider. We headed back to camp.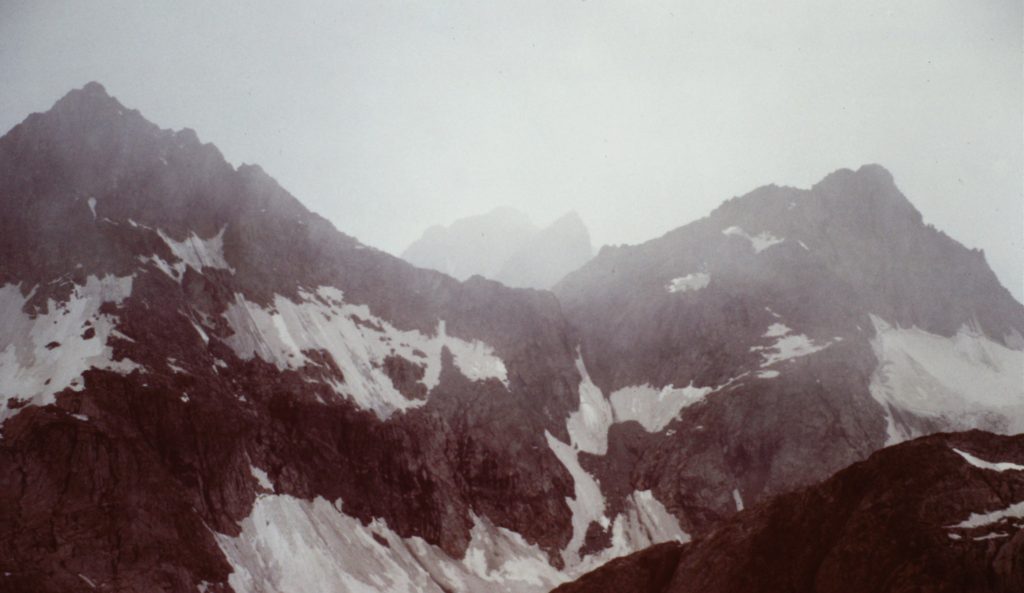 Day Five: Rest Day. Poor weather kept us in camp.
Day Six: Mount Helen Climb. (9.0 miles). We awoke to a clear sky and decided to make another attempt on Mount Helen, 13,,620 feet. We climbed the peak via the Northwest Face, Left Gully Route. We climbed this route to a point east of the summit and then followed the jagged east ridge to the summit. (YDS 5.1) In the afternoon, we all took a day hike to Island Lake
Day Seven. Titcomb Basin to Elkhart Park. (15.0 miles). Mark Twain once said "The mildest winter I ever spent was a Summer in Wyoming." We awoke to six inches of snow and it was still snowing. Even though we had two more days on our itinerary after a brief discussion we decided to move to a lower elevation. The snow cover extended down to nine thousand feet and so we ended up hiking all the way out.
Our trip covered 53 miles. We only climbed one peak due to the weather.
---
Return to ARTICLE INDEX