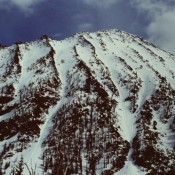 February 28, 2018. Is it time to start planning your summer adventures? The website now includes over 1,300 updates covering Idaho peaks, climbing routes, and access routes including many that Margo and I added to the website over the winter. As always we are thankful to our contributors who are the moving force behind the website. This entry focuses on Colorado climber Livingston Douglas' contributions.
Livingston was one of the earliest contributors to this website and made his first contribution over 15 years ago. Over the winter he provided us with access updates and route descriptions for 84 different Idaho peaks that he has climbed since 2009. While his Idaho adventures have focused on Continental Divide peaks, he has also ventured throughout eastern Idaho and climbed many of that area's most popular peaks.
Livingston's meticulousness updates constitute a serious upgrade to both the information found in the book and this website. In several instances, the updated access information provides alternative routes around areas closed (since the book was published) by private landowners. I cannot stress enough the value of his in-depth contributions that will make it much easier for you to plan climbs of these peaks.
You can read each of his updates by clicking on the links below.
White Knob Mountains
Shelly Mountain, White Knob Mountain, Wildhorse Peak, Mackay Peak and
Cabin Mountain
Pioneer Mountains
Patterson Peak 8350, Copper Basin Knob, Howard Peak, Peak 11151 (The Ramp), Double U Peak, Smiley Mountain, and Peak 10942 (Purgatory Peak)
Beaverhead Mountains
Pyramid Peak 9616, Peak 10042, Morgan Mountain, Peak 7911 (Pioneer Creek Peak), Peak 9940 (Rock Island Peak), Sheep Mountain 9858, Freeman Peak, Monument Peak, Peak 9992, South Freeman Peak, Elk Mountain aka Horse Prairie BM, Peak 10126 (Clear Creek Peak), Copperhead Peak, Copperhead East Peak, Sacagawea East aka North Doublet, Sacagawea West aka South Doublet, Conical Top, Peak 9725 (Goldstone West), Peak 9735 (Goldstone North), Mount Carpenter, Copper Mountain and Mount Gilcrest
Boulder Mountains
Griswold Peak, Boulder Peak and North Ryan Peak
Lost River Range
Little Mac, Limestone Peak, USGS Peak, Mount McCaleb, North Twin, South Twin, Trinity Peak, Hope Peak, Wet Peak, Mountaineer Peak and Gooseberry Peak a.k.a. Mount Darcy
White Clouds
Fourth of July Peak, Ivory Peak, Ebony Peak, Cardiac Peak, Peak 10718 (Hourglass Peak), WCP-2, WCP-3, WCP-7, WCP-8 and Peak 10182 (Iron Basin Peak)
Lemhi Range
Buck Lakes Peak, Lem Peak, Big Creek Peak, Flatiron Mountain, Tendoy Peak, McNutt Peak, West Rocky Peak and Rocky Peak
Snake River Range
Mount Baird, Baldy Mountain 9835, Elkhorn Peak, and Peak 9722 (Hells Hole Peak a.k.a. Little Elk Peak)
Henrys Lake Range
Belack Mountain, Targhee Peak and North Targhee Peak
Centennial Mountains
Red Rock Mountain and Mount Jefferson
————————————————