[Editor's Note: Ray Brooks first posted this report on the Idaho Outdoor Forum. One anonymous responder reported that climbing has taken place on these formations. No details were offered.]
---
I explored the exotic North Side of White Knob Peak.
If I were 30 years younger, I would keep these towers a secret in hopes of climbing some great new routes. Now I leave it to those with more fire in their bellies. Below is a map to where those granite towers are located in Upper East Fork Navarre Creek. A hard-to-find, narrow, high-clearance (but well-used) 4WD track goes to a side canyon at about 7,800 feet where the red line at the top of map ends with my red crosses. A narrower and steeper ATV track (that is a great hiking trail) ends around 9,000 feet and the red arrow points to the bottom of the largest tower in my photos. There is also a nearby creek. To say more would remove adventure for those seeking first ascents and/or new routes on these undocumented towers. After looking at Google Earth and this map today, I would guess the tallest tower is 600-700 feet tall with its summit at about 10,000 feet.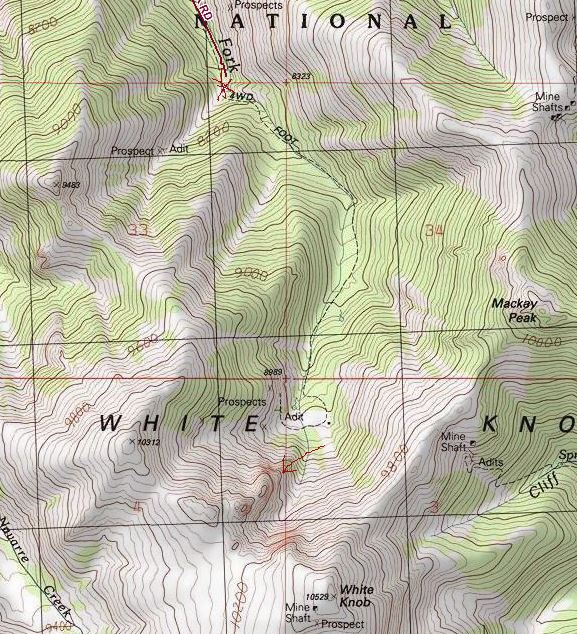 I can't find any mention of routes on these towers online, which doesn't mean they have not been climbed. Tom Lopez mentioned to me that he also shared information on them some years back and, to his knowledge, no one acted on it. I suggest calling this group of towers the "White Knob Towers." A geological guide to the area uses the name Navarre Creek Dome Complex to describe some smaller Porphyritic Rhyolitic intrusions farther north and west.
Editor's Note: If you know something about the White Knob Towers or their climbing history, please share your information by submitting an update to this website.