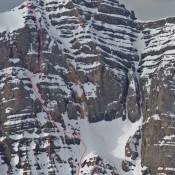 Mount Brietenbach is found on pages 278, 280 and 281. Also see Wes Collin's article on The Lost River Traverse in the Climbing Hisotry section.
---
Mount Brietenbach is Idaho's fifth highest summit. Its a toss up between this 12er and Mount Borah on which peak possesses the most impressive north face. While Borah's north face hands on to its snow and ice and is more often climbed, in my opinion Brietenbach wins the north faced competition. Lower down on this page you can reviews photos documenting the first ascent of this great face. There is a lot of information on this page so just keep scrolling down.
---
South Ridge Route via Pete Creek.
The south ridge route described in the book has better hooting than you might think from viewing the following photographs. Still, there is enough talus to make it an arduous climb when the snow is completely gone.
See Larry Prescott's trip report for its outstanding photography of this route and the surrounding peaks.
---
West Face Route via Jones Creek.
I have only descended this route and while it is not to difficult technically, the rotten rock and long walk up Jones creek make it much harder than the South Ridge Route.
---
The North Face–First ascent.
Bob Boyles provided the following information outlining his team's first ascent of the peak's north face.
North Face Route/North East Ridge
Route PhotoFrom the 1983 American Alpine Journal (Idaho)
Mount Breitenbach, North Face, Lost River Range. From July 13 to 16, Bob Boyles, Mike Weber and I made the first ascent of the north face of Mount Breitenbach. Bill March had told me that some years ago his party was turned back by very severe rock climbing at the top of a large couloir. We easily identified the couloir and rock band. We also discovered a possible route to the west of that couloir but still east of the summit. We pieced our climb together. It consisted of small, steep snowfields intermixed with steep limestone. The crux was a short
aid pitch next to a waterfall which led us into a 900-foot-long, 10 to 15 foot wide hairline couloir that we followed to a bivouac on the skyline just east ofthe summit. In the dawn we descended the east-northeast ridge in two hours of fourth-class climbing. (Grade III, 5.8, A2.)
Curtis Olson, Mountain Guides Inc., Boise, Idaho
On the second ascent of this route Duane Monte and Kevin Sweigert bypassed the aid on the overhanging waterfall (A2) by using a free variation to the east (5.8).
---
The photos set out below show the first ascent route and selected shots along the way. Thanks to Bob Boyles for supplying these historic photos.
———————-
If you are interested in a Winter ascent check out Eric Newell's photo essay on a March 13, 2015 ascent.
Mountain Range: Lost River Range
First Ascent Information:
Other First Ascent:

North Face

Year:

1983

Season:

Summer

Party:

Bob Boyles, Mike Weber and Curtis Olson.
Longitude: -113.6729 Latitude: 44.06511
Share this post ...