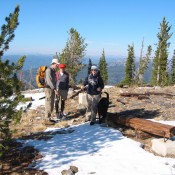 Go All Outdoors is a website developed by a group of passionate outdoors enthusiasts who have a genuine love for the outdoors and want to see it protected for future generations. By providing resources and how-to guides, the website is designed to help others learn the skills to get unplugged and get outdoors. Whether you want to start a new hobby or hone an old one, Go All Outdoors is a great place to look before starting any outdoor adventure!
The website contains valuable discussions on many topics. Its homepage preamble states: 
"No matter who you are or how you grew up, many people get the urge to get away from it all for a little while. Disconnecting from everyday life and heading out into the wilderness can be a very relaxing and rewarding experience. However, without much experience in the outdoors, it can be daunting to take your first steps into the world of camping. There is so much equipment, so many campsites and so many competing opinions. What is the first step?"
The topics covered in detail on the homepage are:
5 Common Mistakes Made by First-Time Campers,
How to Camp, and

 

What to Wear.
Once one has learned a sound foundation for getting started in the outdoors, they can move on to the following topics: Hiking, Paddling and Biking. Check out the website at the following link: