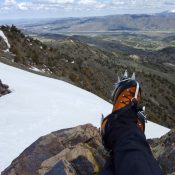 An Alpinist Guide to Pocatello – Snow Climbs and Scrambles, by Scot Kelchner is now available on the Idaho: A Climbing Guide website.
This is a guide to some of the local spots Scot Kelchner enjoyed during his 13 years of scrambling up peaks in the Pocatello area. He made the guide available as a farewell gift to the community via the Pocatello Trails Facebook Group and graciously allowed us to make it available to the larger Idaho Climbing Community via Idaho: A Climbing Guide.
Scot comments: "It [the guide] is by no means comprehensive. It's just a short description of routes you might like to check out for yourself if Winter is ending and you are getting itchy for the high mountains farther afield or if you want to test how much your lungs and muscles atrophied during the Winter. Several Summer scrambles are included."
Having summitted the peaks in his guide, I disagree and found Scot's work sufficiently comprehensive, accurate and intriguing. In addition to route descriptions for five prominent area peaks, he includes two traverse routes (the Portneuf Traverse and the Seven Summits, a traverse of the Bannock Range). Both traverses summit some of the area's most notable peaks.
Kelchner's guide can easily keep you happily occupied in the local area and, with the experience you gain via these routes, be the gateway guide for bigger peaks throughout Idaho. The full guide is available to read or download in PDF format through this link: An Alpinist Guide to Pocatello – Snow Climbs and Scrambles and via Scot's personal website.
Thank you so much, Scot, for this great contribution to the Idaho Climbing Community!
–Margo Mandella