Elevation: 9,154 ft
Prominence: 2,233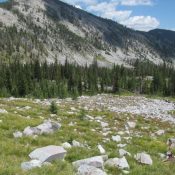 Access and route information for this p2k peak is found on page 89.
---
Victor Zhou's thoughts on the peak are as follows:
Allan Mountain is a P2K in the southern Bitterroot Range, one of the lower foothills sitting in Idaho as the Bitterroots pivot to become the Beaverheads, but it's still a prominent mountain nevertheless. It's reached via a good trail to Allan Lake for around 10-11+ miles round trip (my measurements not exact because I cut off a bit of the trail on the way down), and around 3000 ft of elevation gain. Great views of the Bitterroots, Beaverheads, Salmon River and Clearwater Mountains.
---
Washington mountaineer Ken Jones provided the following valuable update:
On maps and local signs, the peak name is "Allan" rather than the "Allen" you list.
· You indicate that the mountain is Class 3 – you'd have to look pretty hard to find a reasonable route that wasn't Class 2.
My route was as follows:
o Drive from Hwy 93 via Granite Mountain Road (USFS 092) to its slanted "T" intersection with USFS 089. Turn right and follow this to its gated end just before Ditch Creek. In dry conditions, this route should be passable to a carefully driven passenger sedan.
o Hike Ditch Creek Trail USFS 112 past Allan Lake and a pair of tarns. At the switchback at just below 8500' continue angling up cross-country to a saddle on the ridge, which is followed NE to the summit.
o Based on my maps, I think this is likely the shortest, easiest way to the peak at about 10.5 miles RT and 3000' gain.
Mountain Range: Bitteroot Mountains
Longitude: -114.05529 Latitude: 45.59489
Share this post ...