Elevation: 9,339 ft
Prominence: 1,319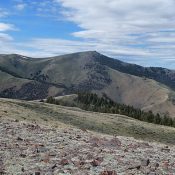 Climbing and access information for this peak is on Page 232 of the book. Updates include Margo Mandella's trip report and photos and Livingston Douglas two new routes and photos. Updated November 2021
---
In June, when higher peaks are still covered by snow, Anderson Peak is the place to view the surrounding mountains: the Lost River Range, the Salmon River Mountains, and the Boulder Mountains. USGS Horse Basin
Access
Primary access is via Walker Way Road. This occasionally-graded road cuts through this section of the Boulder Mountains from Trail Creek Road to the south and US-93 to the north. Walker Way Road is a well-engineered, narrow route that varies in quality but is for the most part in good condition. Nevertheless, a high-clearance vehicle is recommended. See also [(D)(2) on Page 243].
If approaching from the south, Trail Creek Road leaves US-93 16.0 miles north of Mackay. Follow it west for 7.2 miles. Turn right/north onto Peck Canyon/Walker Way Road. Follow this road north and the northeast for 9.6 miles. The unsigned and unmapped 4WD road begins at this spot.
If approaching from the north, follow US-93 south from the US-93/ID-75 junction for 18.2 miles and turn right/west onto [signed] Dry Gulch Road.  Follow this road (which soon becomes Walker Way Road) southwest and then west for 11.7 miles. An unsigned  4WD road begins at this spot and runs generally west to Point 8718. Follow this road to Point 8718.
---
2020 Trip Report by Margo Mandella
Access
Traveling northwest on US-93 from Mackay, drive over Willow Creek Summit and continue to the base of the pass. Turn left/south on a well-graded gravel road (Dry Gulch Road). Almost immediately (at a signed intersection), continue left/south on Dry Gulch Road for about 5 miles. From here, take a 4WD road that is signed open from 1/1-9/30 as it heads west. (Note: a high-clearance 4WD is recommended for most of the roads off Dry Gulch and Walker Way in this area.) Continue to a plateau at 8,718 feet. The climb of Anderson Peak is 4 miles roundtrip from this point. However, if you want to get closer, you can drive north along the fence line road to about 8,800 feet and begin hiking from there, which shortens the journey to 2 miles roundtrip.
Southwest Ridge/Traverse Route, Class 2
We followed the prominent southwest ridge and climbed over Point 9068 on our ascent to Anderson Peak. However, on the return, we took a well-defined pack trail traverse around the point. It was a little less than 2 miles round-trip with 550 feet of elevation gain. If you take the traverse both ways, then it is slightly less than 550 feet of elevation gain. If you go up and over Point 9068 in both directions, then it requires a little more than 550 feet of elevation gain. Either way, the wide-open landscape of Anderson Peak provides fantastic, unobstructed 360-degree views of many prominent peaks in all directions in addition to the nearby Pahsimeroi Range and the west end of the Lost River Range.
---
New Routes by Livingston Douglas
This entry describes two new routes on Anderson Peak and includes a climb of nearby Peak 9018, an often-overlooked summit. This 2-peak adventure covers 10.2 miles with 3,700 feet of elevation gain round trip.
Access
From US-93 exactly 2.7 miles north of Willow Creek Summit, turn left/west onto [signed] Broken Wagon Road and reset your odometer. Take an immediate left at a road fork to head up Dry Gulch toward Road Creek Road. At 4.9 miles, reach a fork in Dry Canyon and an unsigned road junction. Park here next to a few cattle cisterns (7,378 feet).
Southeast Spur/East Ridge, Class 2
The Ascent (then Descent)
From the road junction, cross to the west side of Dry Gulch Road. You are now at the toe of the [impressive] southeast spurof Anderson Peak. Leave the road and scramble west up an easy slope of sagebrush and scattered mountain mahogany to reach the crest of the southeast spur. Follow the weaving ridge northwest then north then northwest up to a juncture with the east ridge at 8,400 feet. The short scrub on the southeast spur is an easy assignment.
Scramble west up the ridge up to a forested patch. Continue west up a forested ridge section that is more of a face. The forest is scattered pines and is not difficult. You can move left/south to follow the edge of the forest instead of bushwhacking up through it, if you wish. Once above the forest, the ridge becomes better defined but rockier. Scramble west up to the summit ridge then head right/north to reach the summit of Anderson Peak. The final section of ridge includes some rocky outcrops. The summit has a small cairn, triangulation posts/wiring, and two gold USGS benchmarks in separate ground boulders.
Northwest Ridge, Class 2
The Descent (then Ascent)
From the summit, descend northwest on the ridge crest through 3-4 rocky outcrops. It is best to skirt them on their right/east sides. I downclimbed one of the rocky outcrops. After passing these outcrops, the ridge is an easy combination of short scrub and broken scree. Head northwest then north through an easy, open pine forest. Stay a bit left/west of the ridge crest for the most open terrain in this partially-forested section of ridge. Once past the forest, the ridge quickly drops to a hidden, connecting saddle with Peak 9018. This 8,460-foot saddle concludes the first leg of today's 2-peak journey. Peak 9018 is up next.
---
Additional Photos
Mountain Range: Boulder Mountains
Longitude: -114.02401 Latitude: 44.19782
Share this post ...