Elevation: 7,441 ft
Prominence: 1,981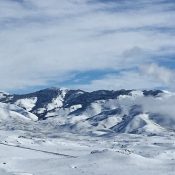 This peak is not in the book. Updated July 2019
---
Scenic Bennett Mountain, with 1,981 feet of prominence, is the highest point in the Bennett Mountain Hills. There are actually two summits. The highest point is paired with South Bennett Mountain, 7,321 feet.
Roughly one-half of the mountain's highest point (its northern side) is located on a small section of land managed by the Bureau of Land Management (BLM). The remainder of the land is privately owned and not open to the public. The map shows several approach roads to this area as well as a road on the BLM section that leads to the summit, where there are a number of electronic installations. However, the approach roads were reported by Dan Robbins (see link below) as being gated and posted closed.
There are many areas in Idaho where mixed public and private land ownership may impede the public from accessing mountain summits. Additionally, some roads shown on maps may be for administrative access only (e.g., used by land management agencies and their contractors for special purposes, like maintaining radio towers) and not available for recreation use.
To verify access to any summit, including this one, you can contact the applicable land management agency. They will also know access status of adjacent private lands. However, you may not know for sure until you attempt a peak and encounter gates or signs that restrict access. Thus, it's always good to have a "back-up peak" planned. In this case, should Bennett Mountain not be accessible, you can climb South Bennett Mountain, which is located a short distance to the southwest, on BLM-managed land.
Class 1.
USGS Topo: Bennett Mountain.
Mountain Range: Bennett Mountain Hills
Longitude: -115.43439 Latitude: 43.24889
Share this post ...