Elevation: 7,441 ft
Prominence: 1,981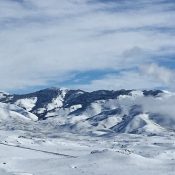 This peak is not in the book. Updated December 2019
---
Scenic Bennett Mountain, with 1,981 feet of prominence, is the highest point in the Bennett Mountain Hills. There are actually two summits. The south summit (South Bennett Mountain) is 120 feet lower in elevation (7,321 feet). Private property blocks access to the north summit. USGS Bennett Mountain
Roughly one-half of the mountain's highest point (its north side) is located on a small section of land managed by the Bureau of Land Management (BLM). The remainder of the land is privately owned and is not open to the public. The map shows several approach roads to this area as well as a road on the BLM section that leads to the summit, where there are a number of electronic installations. However, the approach roads were reported by Dan Robbins (see link below) as being gated and posted closed.
Livingston Douglas provided the following access assessment based on his recon efforts in 2019: "The two jeep roads referred to by Dan Robbins are currently closed to the public. The first road is Henley Road. It is signed with a simple street sign and is located on the right/east side of US-20 exactly 3.6 miles east on US-20 from the Prairie Road turnoff. The second road is Echo Road, also signed with a simple street sign. It is located 4.2 miles east on US-20 from the Prairie Road turnoff. There is a private home/cabin up the gulch here, so future access is highly unlikely. Both roads are gated, locked, and have NO TRESPASSING signs on them. However, the first road (Henley Road) has a phone number that you can call to obtain permission to hike/drive up that road. So perhaps there is some hope here.
If neither of those options work, then the Mountain Home BLM Map shows a patchwork of private and public land to the west of South Bennett Mountain. There is a potential cross-country route heading southeast from US-20 (starting just over a mile east of Tollgate Hill) that is about a mile wide, crosses a section of Idaho State land, and reaches South Bennett Mountain. This route requires a crossing of Bennett Creek and Dive Creek and some terrain undulations to do so. Once across Dive Creek, climb east up onto the summit ridge and the top of South Bennett Mountain. Contact the Shoshone BLM office for updated access information regarding this route before undertaking it (208-732-7200)."
Mountain Range: Bennett Mountain Hills
Longitude: -115.43439 Latitude: 43.24889
Share this post ...