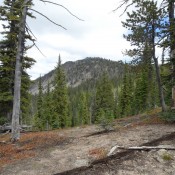 This section of the of the Salmon River Mountains covers a massive stretch of mountains in the North Central portion of the range. The northern border is formed by Big Creek; the eastern border is the Middle Fork Salmon River. The southern border is formed by Red Ridge on its east end and the East Fork Salmon River on the west end. Finally, the western boundary is formed by the South Fork Salmon River. All but the westernmost summits are located in the RNRW.
Red Peak Benchmark (9,571 feet) is the highest summit in this group. I suspect that there are a number of peaks in this area that have never been climbed. This area is discussed on Pages 119-122 of the book. Peaks found on this website are listed at this link: Big Creek to Red Ridge Peaks
Mountain Range: Central Salmon River Mountains
Share this post ...