Elevation: 7,560 ft
Prominence: 2,390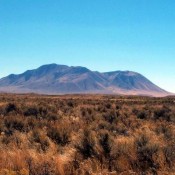 This peak is not in the book. Livingston Douglas updated this page by providing clarification and expansion of the eastern access route that begins in Atomic City. The BLM link for descriptions of both the "east access" route (from Idaho Falls/Pocatello) and the "west access route" (from Arco) is located at this website: https://www.blm.gov/visit/big-southern-butte. Updated November 2021
---
Big Southern Butte is the highest and largest volcanic cone in the Snake River Plain. At 300,000 years old and 7,560 feet in height, it is also one of the youngest and largest rhyolitic volcanic domes. This is one of Idaho's most impressive mountains. Driving past it on US-26 or US-20, it often mysteriously appears to float just above the Snake River Plain and looks larger than life. Driving towards it across the desert, it seems to grow larger with each mile. Driving or hiking up the access road will impress upon you the scale of the geological forces that created the butte and the surrounding plain. USGS Big Southern Butte
The access road was originally built to access a fire lookout on the summit. The lookout was last manned in 2004 and was removed sometime after that. The BLM still maintains the road probably because of electronic installations at the summit. The BLM closes the road during the winter. Many people hike the road from the gate. It is 1,800 vertical feet and 3.5 miles from the gate to the summit. Sheldon Blustein's page on this Butte is the definitive resource for this butte. Check the BLM's web page for current condition
Access
Access is complicated because a large section of the land north of the butte is part of the Idaho National Laboratory and is closed to the public. Google Maps gives directions across the INL land with a proviso that access is compromised. Do not follow this route. The eastern and western access routes are set out below. There are undoubtedly other options from the south and southeast but I have not explored them.
BLM Western Directions
The BLM gives the following directions which, in my opinion, are probably accurate but too vague to follow.
From Arco: Take the County Road/300 North heading south (this is signed as the 'Arco OHV Route'). Turn east onto Arco-Minidoka Road/2930 North. Turn onto 2900 West heading south and turn west onto 2150 North. Turn north onto 300 West, which turns into 2225 North. Turn onto the Arco-Minidoka Road heading south for several miles. Turn east onto Quaking Asp-Frenchman Road toward Big Southern Butte. At Frenchman's Cabin, turn and head up the Butte.
Western Approach (My Driving Route)
From the junction of US-26/US-93, drive west out of Arco on US-93 for 2.0 miles. Turn left/south onto the paved (and signed) 3100W road and zero out your odometer. After I turned off US-93, I tried Google Maps again and this time the App gave me directions for the following the western approach route something it would not do when I was in Arco.
Follow 3100W south for 4.5 miles, crossing a cattle guard at 4.2 miles. Keep left when the road splits. At 13.9 miles, take another left fork. The road deteriorates after this point. At 17.6 miles, take the left fork. At 20.6 miles, you will cross a cattle guard and, at 23.9 miles, you will reach the Frenchman Cabin. At this point, you have crossed nearly 24.0 dusty miles with many protruding rocks. I recommend that you only access the area during dry conditions in a high-clearance vehicle with all-terrain tires.
From the cabin area, a road heads directly toward the butte. The road was recently graded in July 2018.  At 26.9 miles, there is a hang glider warning sign and, at 28.7 miles, you will reach the summit. There is a large turnaround where the lookout once stood. This final stretch of road is steep, very rocky in places and exposed in many spots. A 4WD is recommended.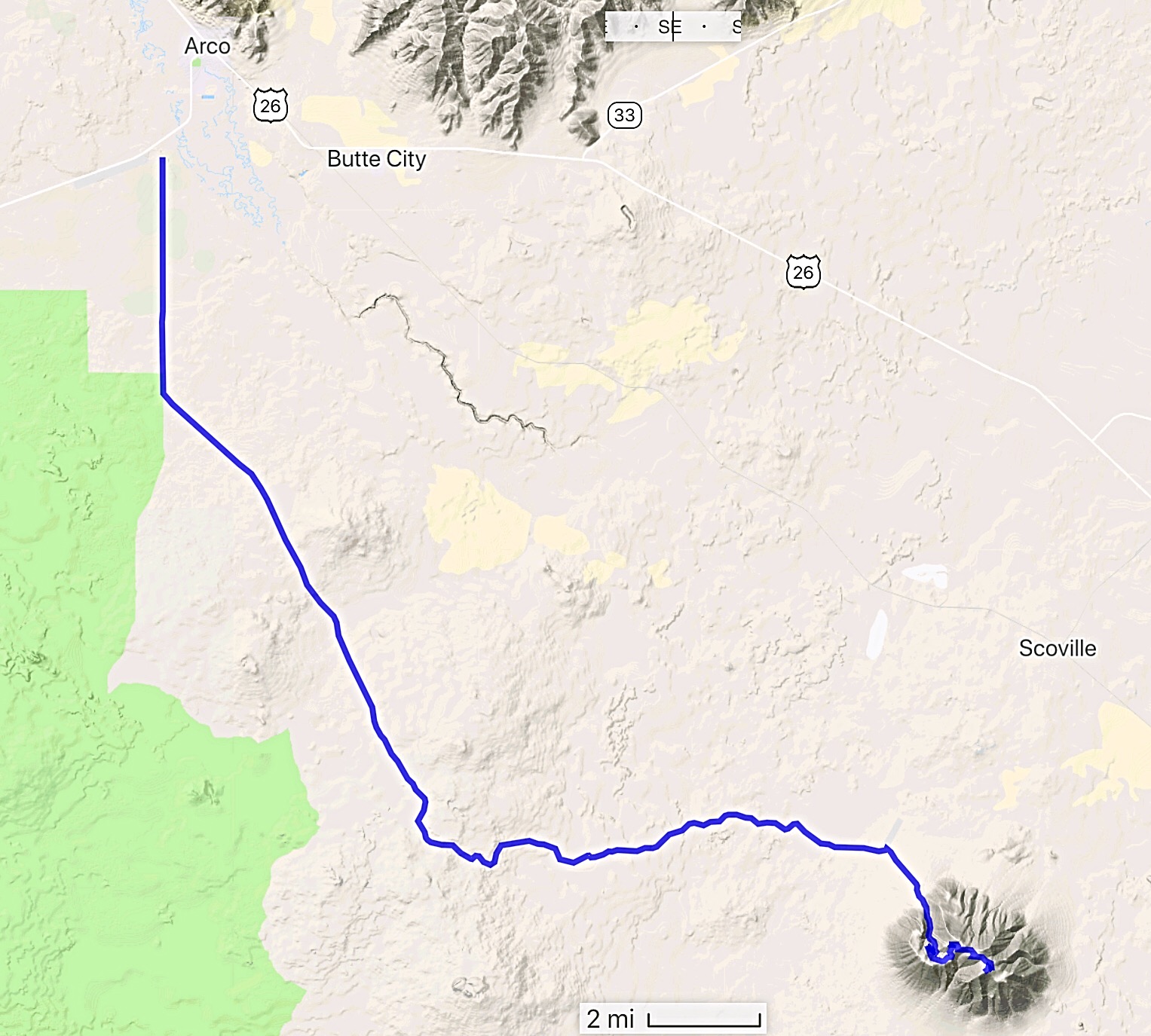 Eastern Access Route from Atomic City by Livingston Douglas
BLM describes this route as follows: "Take Highway 26 to Atomic City. Follow Main Street/Taber Road about 1.5 miles south and turn right onto a gravel road (W 1600N). This semi-improved road passes around the north side of the butte until it reaches a small landing strip, which was also an old stage coach stop. Turn and follow the road uphill. There is a place to park by the side of the gate if hiking." Please note that I attempted to drive this road up the east side of Big Southern Butte in Summer 2021 and it was narrow and badly rutted after 0.5 miles. The BLM map implies that the road is in decent shape (semi-improved). It is most assuredly NOT. Avoid it.
Now, a few more comments on the BLM driving directions. First, US-26 doesn't go to Atomic City. You must find a connecting road that goes from US-26 for 1.3 miles to reach Atomic City, which is not visible from US-26. It is easy to drive past this connecting road, as it is not well signed. Second, the main road that goes north-south through Atomic City is not labeled "Main Street" or "Taber Road" (though the USGS map calls it Taber Road). It is actually 2650W. Third, you must drive 1.3 miles south on 2650W, not 1.5 miles south. Finally, the east-west road that you reach south of Atomic City is not W 1600N but is clearly labeled "Cedar Butte Road."
Here are the accurate driving directions that I can vouch for. From the junction of US-20 and US-26 north of Atomic City, drive south on US-26 for 6.7 miles to a [signed] right turn for Atomic City. Turn right and drive 1.3 miles on an excellent paved road (the "connecting road") until it ends at a "T" junction in downtown Atomic City. You have now reached 2650W which is also referred to as Main Street or Taber Road (though is not labeled as either of those names).
Turn left/south onto 2650W and drive 1.3 miles to a [signed] junction with Cedar Butte Road. Turn right/west onto Cedar Butte Road and drive 4.8 miles to a [signed] junction. Go right here for the route detailed on the BLM website. As noted earlier, that road is in poor shape, narrow and badly rutted. Avoid it. Reset your odometer at this junction and go straight here. This decent road goes around the south end of Big Southern Butte then up the west side of the butte to reach the north end of the butte.
At 5.6 miles, go right at a "T" junction. At 5.9 miles, go left at an unsigned junction. At 8.6 miles, go right/northeast at an unsigned junction. At 12.3 miles, reach the Frenchman Cabin junction. Go right here onto the Big Southern Butte Service Road. There is a sign for "Big Butte" at this junction. At 13.7 miles, reach a small parking pullout just below a gate and a significant steepening of the road. Park here (5,710 feet).
Mountain Range: Snake River Plain
Longitude: -113.0233 Latitude: 43.39601
Share this post ...