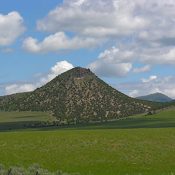 The Blackfoot Mountains and two subranges, the Chesterfield Range and the Ninety Percent Range, form a group of barren ridges that trend from northwest to southeast for more than 50 miles between Idaho Falls and Soda Springs. The range's western slopes climb roughly 2,400 feet above the Snake River, but the eastern slopes rise only 600 feet above the Willow Creek and Blackfoot River drainages. Taylor Mountain (7,404 feet) and Blue Ridge (Blackfoot Benchmark) (7,550 feet) are the range's highest points. Wolverine Canyon, a scenic gorge on the western slope of the range, offers some rock climbing opportunities on impressive cliffs and unusual rock formations.
Ralph Maughan reports "Most of the range is private property, so visitor access is not very good to many parts. The topography is complex and varied, although not especially high in elevation. Recently a controversy has developed over a wind farm near Wolverine Canyon. Some folks say it is good clean energy. Others say its size is excessive (10,000 acres) and the proposed 420 foot high windmill towers excessive."
Mountain Range: Blackfoot Mountains
Share this post ...