Elevation: 6,525 ft
Prominence: 705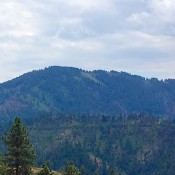 This book is not in the book.
---
Boise Peak sits on the Boise Ridge between Bogus Basin and Aldape Summit. I noticed that a lot of my friends and acquaintances have climbed this peak so on a slow Sunday I said "what the hell" and headed off to ascend this peak. After my experience, I can state that it's time to start a chapter of Peakaholics Anonymous. The peak is a brush-choked, tree-covered summit. You will probably need a GPS to find the high point and, as your reward, there is no view.
Access the peak from the Boise Ridge Road which can be reached from 8th Street, which leaves from downtown Boise or the Bogus Basin Road. I used the Google Maps App to find my way to Eagleson Summit. It was the first time I relied on a map program rather than a map and it worked fine. I had not driven 8th Street to reach the Boise Ridge in 20 years. The road has deteriorated in its upper region and 8th Street has a couple of bad spots that definitely require a 4WD. At Eagleson Summit, FS-275E takes off toward the peak.
The road is drivable for a while. When the road forks, go right. This road wraps around the East Side of the peak. I followed the road until just after it climbed steeply and then dropped steeply. Part way down the descent, I found a game trail climbing up to my left. This trail leads to a large meadow. From this point, I used my iPhone and Google Maps to find the high point. Straight line travel was difficult because it will take you through thick brush. See Dan Krueger's 2016 trip report below which includes a map and more details. USGS Robie Creek
Dan Krueger writes: "So I guess I should join your 'Peakaholics Anonymous' club. My rock-climbing buddies canceled on me last night, so I decided to climb Boise Peak. Boise Peak is such a prominent peak from anywhere in town that I definitely had to climb it. But you are right; it's definitely uninspiring. I drove up 8th Street, past upper Hull's Gulch and parked where the road joins the Boise Ridge Road at 5,860 feet. This seemed like a good place to park since Boise Peak was to the north and the Ada County HP was to the south. There were some really rough spots on the 8th Street Extension that did require a high-clearance 4WD vehicle."
"From the spot where I parked, I hiked north along the ridge road toward the peak following my GPS. After leaving the road about 1/4 mile from the summit, I came to a fork in the path. The left path went around to the West Side of the summit and seemed like the correct way by my GPS, but it turned out to be a terrible choice. I ended up having to bushwhack through about 100 feet of super-thick dense brush that was a huge obstacle. I found a few rocks that seemed to be the high point and took a picture. I hiked down the East Side of the summit and there was very little brush to deal with; even found a place where someone had been camping not far from the summit. I consider this hike a 'check the box' hike. It's not super enjoyable or rewarding, but I needed to do it ONCE."
Mountain Range: Boise Mountains
Longitude: -116.08979 Latitude: 43.70229
Share this post ...