Elevation: 8,377 ft
Prominence: 797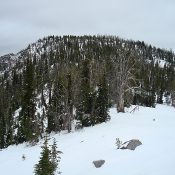 Climbing and access information for this summit on page 114 in the book. Below you will find John Platt's has added a new and interesting route for this peak. Updated April 2018
---
This peak, one  of three Idaho summits named Boulder Mountain, offers great views and is one of the easier summits to climb in the McCall area. As of July 2001, the Boulder Peak trail had not been maintained in a long time. However, it is still in fair condition and can be followed most of the way to the summit. Look for cairns that lead over the spots where the trail's tread is a bit sketchy. There is an excellent view from the top of this peak along with the ruins of an old fire lookout. Ask the Forest Service to repair the trail.
Northwest Ridge Route, Class 2 by John Platt
Access
As usual, a map is pretty useful because after you leave the pavement, none of the roads are marked. Take the Boulder Mountain Road off of Farm to Market, just like you were heading to Boulder Lake. When the pavement ends, go about another mile. Just past the cattle guard, turn left. People camp here, so there is a confusion of tracks- look for the (main) one that heads north and uphill. (Note: It shows signs of being gravelled at some time in the past.) Stay on the main road past several spurs and through a couple switchbacks as the road eventually heads up and strongly eastward.
Eventually, you have to make a hard left onto a steep spur, but your other choice was blocked.
As this steep spur gains the ridge top in 3 or 400 yards, bear right. Go through another switchback on the ridge top, then in another mile or so, look for a spur to the left that takes you out into a meadowy hillside. Either park here, or fold in your mirrors and drive another 1/4 mile to the road end. Although not marked, the Shaw Twin Lakes trail should be obvious.
Note- the upper part of this road goes through trees on the northside of a ridge at elevation…. so don't try it until the visible snow has been gone for some time. Also note: this explains the BEST road, but other roads can be used if you have the rig for them.
Route
From the trailhead northwest of the summit we hiked a loop heading into the Shaw Twin Lakes. We then ascended, as shown on the map below, to the top of the northwest ridge which we followed to the summit. For our descent we followed the northwest ridge back to the trailhead. Our stats: 5.4 miles, 1560′ gain, 3:59 hours RT.
(John's trip report is linked below.)
Mountain Range: Western Salmon River Mountains
Longitude: -115.93819 Latitude: 44.88119
Share this post ...