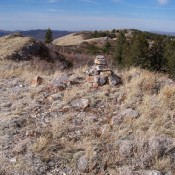 The Chesterfield Range, an extension of the Blackfoot Mountains, is located between the Blackfoot River basin to the northeast and the upper Portneuf River Valley to the southeast. To the south, the Chesterfield Range is separated from the Soda Springs Hills by Tenmile Pass. This minor escarpment is roughly 30 miles in length and is composed of a series of parallel ridges with no prominent peaks. From many distant vantage points this range can be easily identified by its long uniform height at around the 7000′ level.
The mountain range is named for what is now the ghost town of Chesterfield in Portneuf (Gem) Valley; founded in 1881, deserted by 1940, and now repopulated by rural ranchettes.
In 1915 the USGS established a triangulation station named 'Twenty-Four Mile' el 7246' on the main backbone of the range, now known as Windy Ridge. In the old days, geographic points in this hinterland of Caribou County were often measured as 'miles from Soda Springs, ID'.
While most of the front side of the range is privately held, there is public access toward Twenty Four Mile Reservoir. From this vicinity it is possible to hike to the range crest. Thanks to Rick Baugher for his contributions on this little known range.
Mountain Range: Blackfoot Mountains
Share this post ...