Elevation: 6,791 ft
Prominence: 1,211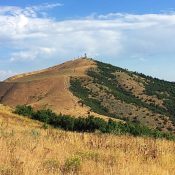 This peak is not in the book. See Livingston Douglas' detailed report below. Updated November 2018
---
This peak is the highest point in the portion of the Portneuf Range called the Pocatello Range. The peak is a fire lookout site and a road leads to the top. The peak was known for years as Chinks Peak. Lately, in response to the political-correctness movement, efforts were made to change the name to Chinese Peak. Both names are still in use. USGS Inkom
A road leads up the peak's west slopes to the summit from south Pocatello. Thus, this is a perfect peak for a steep mountain bike ascent (Class 1). To reach the peak, find the intersection of 4th Avenue and Barton Road on the south side of Pocatello. Turn onto Barton Road and follow it for 4.7 miles to the summit.
There are several other ways to reach the summit including a 4WD road up from Rock Canyon to the south and several ridge walks. Use this link to see a BLM map of the trail system: BLM Chinese Peak Blackrock Canyon Trail System.
---
2018 Update by Livingston Douglas
Here is some more specific detail on how to access Chinese Peak, where to park, and how long a hike it is to the top.
West Face via BLM Road #301, Class 1
Access
From Exit 67 on I-15, drive northwest on 5th Avenue to just past where the road is divided into a one-way configuration with 5th Avenue northbound and 4th Avenue southbound. Turn right/northeast onto Barton Road. Drive 1.8 miles up Barton Road to the BLM gate and a large trailhead parking area. Park here. The elevation is 5,055 feet.
The Climb
Hike 2.7 miles up BLM Road #301 (a smooth dirt road) to the summit area. Higher up, the road does a number of steep switchbacks. There are several large antenna facilities on top. The high point is at the base of one of these massive antennas. There is no restroom or snack bar on the summit. Sorry.
The terrain on the west face and summit area is completely open, not a tree in sight. Just a whole lot of desert scrub. From both high up on the road and on the summit, you have a splendid view of the city of Pocatello, particularly the south end of the city. You can even hear the incessant traffic barreling along I-15 on the lower reaches of the road. This is a road hike that is entirely on BLM land. Just try to avoid doing this hike on a windy day because it is quite exposed to western and southern winds.
Both the Pocatello Visitor Center (located at the merger of 5th Avenue and 4th Avenue near Exit 67) and the Pocatelllo BLM/NFS office (located just off 5th Avenue on the southeast side of I-15) offer a free map of the Chinese Peak-Blackrock Trail System. It's worth picking up if you wish to explore other hiking/biking routes on Chinese Peak. The free map is also available online in a PDF format.
Mountain Range: Pocatello Range
Longitude: -112.36301 Latitude: 42.84879
Share this post ...