Elevation: 3,426 ft
Prominence: 336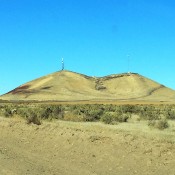 Cinder Cone Butte is a large cinder cone which can be spotted south of I-84 near Exit 74. There are several electronics installations on its summit. A good road leads to the top. This butte has 336 feet of prominence and is, by far, the most distinctive feature in this section of the Snake River Plain. From Exit 74, drive south on Simco Road to Cinder Cone Road. From this point, you can drive as close to the summit as suits your energy level and hike or ride a mountain bike to the top. USGS Cinder Cone Butte
Livingston Douglas provides a more detailed report on this peak, which includes a route to the summit that avoids the access road. His report is set out below.
---
Cinder Cone Butte by Livingston Douglas 
Date of Climb:  October 10, 2019
Access:
From the junction of ID-67 and ID-51 on the west side of Mountain Home, ID, drive west on ID-67 then go R onto ID-167 before reaching the turnoff for the Mountain Home AFB. Drive a total of 13.6 miles on ID-67/ID-167 to reach the signed junction with Simco Road. Go R/N on Simco Road (an excellent paved highway) and drive 11.0 miles north to reach a junction with Cinder Cone Road, which only has a small street sign but has a ranch nearby and a collection of trees.
Go L/W onto unpaved Cinder Cone Road, a washboard road with a hard rock base. Drive 1.4 miles to an unsigned junction.Go diagonally R/NW onto a black gravel/sand road that leads to a hidden, large parking area at the base of the South Face of Cinder Cone Butte. The total drive from Simco Road is about 1.8 miles to this parking area. The elevation here is 3,100 feet.
South Face, Class 2+
Cinder Cone Butte is appropriately named. It is a huge pile of volcanic cinders. It makes for interesting scrambling up this steep face. The South Face has two ultra-steep sections of very loose lava cinders (sand/gravel). This is truly a "two steps forward, one step back" endeavor and you will be on all fours to make any progress.
Thankfully, there is mid-section where you cross an access road on flatter terrain and the upper section is less steep and includes short grass mixed in with the cinders. You should be on top in less than 10 minutes and cover 335 feet of elevation gain, according to my altimeter readings. The south summit is the high point and is clad with a large antenna installation. There is a smaller antenna installation on the [lower] north summit. There are two (s) USGS BMs on the south summit in separate ground boulders.
Cinder Cone Road splits into two roads heading west from near the parking area: South Cinder Cone Road and North Cinder Cone Road. Both of those roads lead in a westerly direction to the infamous Range Road on the east side of the National Guard's artillery range.
Mountain Range: Snake River Plain
Longitude: -115.99329 Latitude: 43.21909
Share this post ...