Elevation: 5,481 ft
Prominence: 451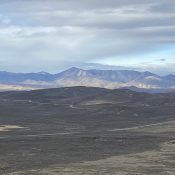 This peak is not in the book. The Clay Bank Hills are a minor ridge system at the north edge of the Snake River Plain. They are located southwest of the ID-75/US-20 junction and east of Magic Reservoir. I added a route up the peak's southeast slopes. Updated November 2021
---
Clay Bank Hills HP is a rather indistinct scrub hump among many in the Clay Bank Hills. The lower west side of the mountain is on private land so avoid that area. The south ridge is entirely on BLM land. It is a rather unpleasant scramble through thick sagebrush and other nasty brush. USGS Magic Reservoir East
South Ridge, Class 2
Access
East Magic Reservoir Road (signed) is located 3.7 miles south of US-20 on ID-75. The turnoff is on the west side of ID-75. Drive 2.0 miles west on East Magic Reservoir Road to a cattle guard/fence. Park in a pullout area just before the fence. The fence is the demarcation line between BLM land and posted private land. Stay to the right/east of the fence when climbing the south ridge. The elevation here is 5,110 feet.
The Climb
From the parking pullout, scramble northeast away from the fence and up a steep sagebrush slope to reach the crest of the ill-defined south ridge. The sagebrush is thick and tall, requiring lots of weaving around. I hope you decided to wear hiking PANTS today. The dead sagebrush will gouge you to no end. The other brush that is mixed in will poke and scrape at you as well. You will despise this short hike RIGHT FROM THE START.
Follow the ridge crest dead north to reach Point 5445. Drop to a minor saddle and continue north a short distance to the scrub-covered summit. There are even a few mountain mahogany up here. The summit has a decent cairn built atop a massive ground boulder which IS the high point of Clay Bank Hills. Return the way you came, being careful to not wander off onto a side shoulder (easy to do) and, for goodness sake, don't wander too far west and cross into private property. The cattle fence should stop you before you make that mistake.
Southeast Slopes, Class 2 by Tom Lopez
Access and Route
From ID-75, drive west on East Magic Reservoir Road (described above) for 1.6 miles to an unsigned junction. Turn on to this 4WD 2-track road. You can either park at this point or drive and additional 0.4 miles to the road's end. From the the start of the 2-track, it is 1.6 miles to the summit with 333 feet of elevation gain. If you drive to the end of the road, you will save 130 feet of elevation gain.
Mountain Range: Snake River Plain
Longitude: -114.33189 Latitude: 43.29669
Share this post ...