Elevation: 8,126 ft
Prominence: 2,306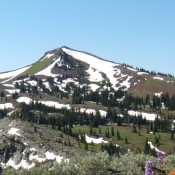 Climbing and access information for this peak is discussed on page 106. The access has information has changed a bit over the years. New route information contributed by Ken Jones is found below. Updated June 2019
---
This is the nicest summit in the northern section of the West Mountains.
Update by Ken Jones
Access
From Donnelly, Idaho and ID-55 drive to the Deseret Cabin Trailhead. From Donnelly, go west on Roseberry Road (on the north side of the Sinclair station). Follow this 3.6 miles and turn right on West Mountain Road. Zero your odometer here. At 1.2 miles bear left on No Business Rd. At 4.8 miles keep right on FR 186. At 7.1 miles turn right on FR 425. At 11.9 miles turn left on FR 165. At 13.0 miles keep right (don't go left onto FR 166). At 13.3 miles stay straight where FR 172 goes right. At 14.2 miles is a signed junction to the Deseret Cabin/Trail 201 trailhead. Passenger cars should be able to get here in dry conditions. If you can, drive the road south to the trailhead one mile farther – high clearance may be necessary, depending on recent road maintenance or lack thereof.
Route, Class 1-2
For the hike, follow signed Trail 201 (which starts as an ATV trail) to the ridge overlooking Granite Basin. Turn right at the signed junction toward the "Council Mountain Trail" another 1/4-mile southwest. At this junction you don't want the Council Mountain Trail but the unmapped (on my topo, anyway) but signed Sheep Creek Trail which climbs to the northwest ridge of Council Mountain and goes to the base of the peak before dropping south and west. Leave the trail at this point and walk to the summit. The hike is 8.7 miles with 1,900  feet of gain round trip.
Mountain Range: West Mountains
Longitude: -116.2693 Latitude: 44.7107
Share this post ...