Elevation: 7,867 ft
Prominence: 3,207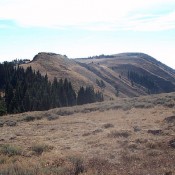 Climbing and access information for this peak is on Page 103 of the book.
---
Cuddy Mountain is the highest point in the Cuddy Mountains. It is also the Washington County High Point. It has 3,207 feet of prominence which ranks it 25th in Idaho. This peak was named after John Cuddy, an early settler who owned the first flour mill in the nearby Sulubria valley. There are two ways to reach the summit. One involves a long, difficult drive and a short walk. The other involves a steep trail hike which gains over 3,000 feet in 4.0 miles. Use the link for Dan Robbins' trip report for hiking details.
The views from the summit are stunning. Due west is Big Lookout Mountain in Oregon and, a bit closer, the Snake River. Looking north is a stunning view of Oregon's Wallowa Mountains, Hells Canyon, and the Seven Devils. The east view is filled by a long stretch of the Salmon River Mountains' Lick Creek Range, from North and South Loon Peaks in the north to Needles Peak in the south. Then you will spot Council Peak and the West Mountains Crest and, at its end, Shafer Butte near Boise. The Hitt Mountains look impressive in their isolation to the south.
I used directions provided by Ken Jones for the drive to the saddle between Cuddy Mountain and Cuddy Point. Ken noted that this route requires a 4WD. I would add the further warning that the 4WD vehicle must have good off-road tires with multiple-ply sidewalls to insure safe passage as there are long stretches of very rocky road to traverse. Leave Council, ID where ID-95 makes a 90-degree turn. Turn left onto Moser Avenue and follow it for 4 blocks. Turn right onto North Railroad Street which turns into Hornet Creek Road after making a left-hand, 90-degree turn. This is a good paved road. Follow it for 13.3 miles to its junction with FS-055.
FS-055 is a fair road at first. Stay on the most obviously used road at a couple of unsigned junctions. The farther you drive, the rougher the road. About eight miles from the start of FS-055, the road deteriorates into a rocky, bumpy 4WD route. At 9.1 miles, you will find the signed junction for Hornet Reservoir. Keep right and be prepared for a really rough stretch of road.
Ken's description from this junction: "At 10.6 miles, bear left at a 'T' intersection. From just beyond here, you'll travel most of the rest of the way on high plateaus. The road gathers a lot of standing water and deep mud in shady spots. If the road is not bone dry, be sure you know what you're getting into before you drive through wet spots.  At 11.6 miles, keep right on FSR-087. This junction is signed. If you go straight it will take you south to Buck Park and also to Peak 7549. Stick to the main road and follow it to its end about 2 1/2 miles farther." 
I can add the following to Ken's narrative. There are several spots along the route that will hold blocking snowdrifts until mid-July during most years. The wet spots Ken mentioned all had solid bottoms but care is still needed. Once it passes the turn for Buck Park, the road goes up and down and has some rough spots.
From the sign, a 4WD track runs toward the summit. Follow it for 0.5 miles and then climb directly up to the broad summit area where you will find a USGS benchmark.
Cuddy Point is not a peak by any measure. It does offer a good view but not much better than Cuddy Mountain. It's roughly a 0.5 miles (up an down) via a ATV trail from the sign. As of July 2016, Google Maps mistakenly identifies Cuddy Point as Cuddy Mountain.
Mountain Range: Cuddy and Hitt Mountains
Longitude: -116.7842 Latitude: 44.7712
Photos: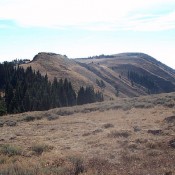 Share this post ...