Elevation: 4,281 ft
Prominence: 1,141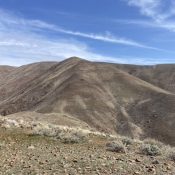 This peak is not in the book. I followed Jason's route and have added bracketed [ ] notes to his narrative. Private property blocks access to this peak from every direction but it's west side. Updated March 2021
---
Dead Indian Ridge is a prominent peak located northwest of Weiser, Idaho. It rises directly above the Snake River. The peak has excellent access and the soils are fast draining, making it a great Winter destination. Due to its location, this peak has massive views of surrounding mountain ranges and incredible views of the Snake River which you see most of the way. The hike is quite steep and is a great training hike. USGS Olds Ferry
Access
From Weiser and US-95, turn onto East Commercial Street. At 0.8 miles, turn left onto
West 3rd
Street and drive about 500 feet. West 3rd Street becomes County Road 70 at this point. Follow this road for 4.2 miles. Turn right onto Jonathan Road and follow it for 1.0 mile. Turn left on Olds Ferry Road and follow it for 9.8 miles. Park at the BLM-signed Weiser Dunes parking lot. [Google Maps provides good directions to the Weiser Dunes.]
West Ridge, Class 2
From the Weiser Dunes parking lot, cross the road. There are two hiking options visible. The northernmost option is an ATV/4WD road and the second is an ATV trail that starts between two Jerseys Barriers. Start your climb by following one of these. The two tracks soon meet up and then follow the ridge line up toward the summit. [The ATV/4WD road is exceedingly steep in place but does get driven by 4WDs. I do not recommend driving this road. In fact the road is so steep in places that it is easier to walk on the side of the road.] The ATV/4WD road ends in a saddle between Point 3471 and Dead Indian Ridge.  From this point climb up the peak's steep West Ridge to the summit gaining another 800 feet of elevation. Although steep and loose in places there are no obstacles in this section and you can pick from a number of lines to climb this section. I could not find a register. Round-trip distance is 5.0 miles with 2,200 feet of elevation gain.
Mountain Range: Cuddy and Hitt Mountains
Longitude: -117.17101 Latitude: 44.30929
Share this post ...