Elevation: 8,220 ft
Prominence: 520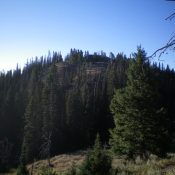 Climbing and access information for this peak is on Page 332 of the book. Livingston Douglas reports: "Please note that the trail approach referred to in the book no longer exists. Both FST-007 andFST-171 are long gone. And the bushwhack to the saddle at the base of the south ridge is tedious and time consuming from any direction." Published November 2020
---
Dry Creek Peak is located on a spur ridge just south of the Continental Divide and the ID/MT border. There is a point of equal height to its west (on the Continental Divide): Point 8200+. Which one is higher and which one should count as a summit? You'll find out the answer if you climb the west ridge route which is detailed below. Just to make matters more confusing, there is also a Dry Creek Benchmark located on the spur ridge. Is it the high point? Read on.  The climb described below is part of a 2-peak adventure that includes Dry Creek Peak and Peak 7750 to its south. USGS Slide Mountain
Access
From the north side of Kilgore, ID, drive north on [signed] Cottonwood Creek Road/FSR-026. At 3.9 miles, reach a [signed] junction with East Camas Creek Road. Continue straight on Cottonwood Creek Road. At 5.8 miles, reach the NF boundary. At 6.3 miles, reach a [signed] road junction just after a bridge crossing of Cottonwood Creek. Go right onto Aldous Lake Road/FSR-027. Reset your odometer here. At 4.3 miles, reach a [signed] junction with Moose Creek Road/FSR-564. Continue straight on Aldous Lake Road/FSR-027. At 5.2 miles, reach the Aldous Lake/CDT trailhead and the end of the road. Park in the large trailhead parking lot (7,040 feet). There is a bathroom and campsite here as well.
West Ridge, Class 2
The Climb
From the Aldous Lake trailhead, bushwhack east up through a reasonable pine forest with some blowdown and brush to navigate through. You will quickly find a shoulder to the left/north. Scramble east up this steep, forested shoulder with some game trails to help. The terrain is a combination of loose gravel, blowdown, and brush. Descend 75 vertical feet off a hump to reach a saddle. The forest is open enough to see this saddle and the thickly-forested face that lies ahead. From the saddle, bushwhack northeast up through a steep section of forest and skirt the south side of Point 7732 to reach another ridge saddle at 7,700 feet.
This saddle is a mess of blowdown, brush, and veg. It is tedious to get across. Once across the saddle, head right/south up onto a shoulder to avoid a gully that cuts the west face and is clogged with blowdown and veg.  This gully is to the left/north of the shoulder. Climb southeast up the shoulder to reach the east ridge proper, using an elk trail to avoid the worst of the blowdown. Come up to a ridge point (Point 8200+) at a ridge corner. This is the west summit of Dry Creek Peak. It is small and is clogged with ridge firs and brush. While it measures of equal height to Dry Creek Peak on the USGS topo map (both are 8200+), the west summit is actually 20 feet lower than the true/east summit of Dry Creek Peak as measured by my altimeter. When viewed from the east summit, the west summit appears to be slightly lower.
The ridge crest is easier and more open now. Scramble east along the ridge, dropping down to a narrow saddle then climbing up over another ridge hump. A game trail along the ridge crest will help you. From the ridge hump, descend east then southeast in open brush/scree to reach a small saddle (8,060 feet) and a trail that crosses it. From the saddle, bushwhack south-southeast up a semi-open ridge (not too bad) to reach the open ridge crest summit of Dry Creek Peak. There is a small cairn on top and nice views of the surrounding area. This is the true/east summit of Dry Creek Peak.
South Ridge, Class 2
The Descent
From the summit, descend south on the mostly-open ridge in scrub/brush and scree to find the USGS Dry Creek benchmark in a massive ground boulder. This benchmark is on the ridge crest and is ¼ mile south of, and 70 vertical feet below, Dry Creek Peak and is shown properly on the USGS topo map. From the benchmark, descend southeast along the ridge crest then bend right-ish/south to descend closer to the forest. There are a few rocky ridge outcrops to go over, but nothing serious. Follow an elk trail on the ridge crest to descend into the forest and down to the 7,410-foot connecting saddle with Peak 7750. This concludes the first leg of today's 2-peak journey. Peak 7750 is next.
Mountain Range: Centennial Range
Longitude: -111.80719 Latitude: 44.50829
Share this post ...