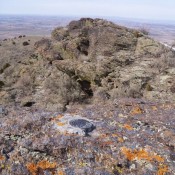 The East Hills rise out of the Snake River Plain southeast of Declo,ID, in Cassia County. Essentially these are foothills to the neighboring Cotterell Mountains and Albion Mountains. This notion is confirmed by looking at the rocks. East Hills contains Cotterell basalts as well as those ancient Albion metamorphics. The high point is Peak 5825.
Of more recent note, the world's largest potato processing company was founded near Declo in 1923 by a young JR Simplot.
Mountain Range: Albion Range
Share this post ...