Elevation: 9,670 ft
Prominence: 170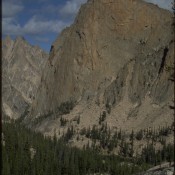 Climbing and access information for this peak is discussed on pages 176 to 180.
---
The Elephants Perch has Idaho's most famous big wall. It is a complicated and big peak with a lot of area to explore. Still, most people know the peak for its big wall routes and the vast majority approach the peak from the Saddleback Lakes.
Farther down this page you will find a photo of the face showing the lines of the  Mountaineer's and Astro Elephant routes. You will also find three links to trip reports by a Brad Brandewie which photo document four routes on the face.
Clint Cummins has cataloged the technical routes on the Elephants Perch including links to topos which you can reach by clicking on this sentence.
---
Access
Finding your way to the Saddleback lakes involves using your route finding skills. Access is discussed in the book at pages 206-7. See (A)(6)(b.2). Even with the description the route can be difficult to traverse, especially in its lower stretches. Redfish Lake Creek will be difficult and dangerous to cross when the water is up and the lower forest changes at natures whim. Use a good topo map or GPS to aid your effort. I have posted two photos of the approach from 1994. Undoubtedly, the vegetation has changed since the shots were taken.
---
---
Mountaineers Route TRs. Here are two links to trip reports that I found by Brad Brandewie that photo document the route:
1) Brandewie one,
2) Brandewie two.
Splitgerber-March Direct: Here is another great Brandewie TR for this route.
Astro Elephant: Brandewie does it again for this route.
Sunrise Book: Brandewie once more.
---
---
Additioinal Mountaineers Route Info and another trip report.:
---
Mountain Range: Sawtooth Range
First Ascent Information:
Other First Ascent:

First Winter Ascent (Beckey Route)

Year:

1984

Season:

Winter

Party:

Paul Potters, Steve Morris, Dave Bingham
Longitude: -114.968686 Latitude: 44.072733
Share this post ...