Elevation: 7,819 ft
Prominence: 679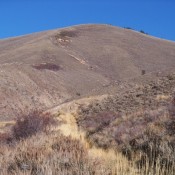 This peak is not in the book. Rick Baugher provided the initial entry for this peak based on his 2013 ascent. Rick's report is set out down the page. Livingston's entry provides a significant update to current conditions which have changed significantly over the last ten years. Updated January 2023
---
Enoch Benchmark is the high point on Rasmussen Ridge. It sits high above the Enoch Valley to its west and the Rasmussen Valley to its south. Due to private ranch land (to the west) and an active phosphate mining operation (to the south), you must be careful how you climb this peak. Neither the local ranchers nor miners are friendly to hikers. This route is entirely on public land. It covers 6.0 miles with 1,825 feet of elevation gain round trip. USGS Wayan West
Access
From ID-34 at the south end of Blackfoot Reservoir (11.8 miles north of US-30 in Soda Springs), turn right/east onto [signed] Blackfoot River Road and reset your odometer. At 11.3 miles, reach the Caribou National Forest boundary. At 14.6 miles, reach a signed junction with Rasmussen Valley Road just before a sharp right/east turn in Blackfoot River Road. Turn left/west onto Rasmussen Valley Road and reset your odometer. At 0.2 miles, turn right/north at a signed "T" junction to remain on Rasmussen Valley Road.
At 1.2 miles, the road bends sharply left/west at the base of an active phosphate mining operation on Peak 7487 to the right/east. At 3.4 miles, cross an active "mining haul" road. At 5.4 miles, cross another active "mining haul" road and park in a pullout just after making this road crossing. This is the unofficial end of Rasmussen Valley Road. You have reached the base of a weak, overgrown 2-track road (the right of two 2-track roads here). Park here (6,700 feet). GPS coordinates: 42⁰52'36"N, 111⁰25'27"W.
Southwest Ridge, Class 2
The Climb
From the parking pullout, follow the weak, very unused, overgrown remains of a 2-track road north to its end. Sometimes the road re-emerges and is quite easy to follow. At other times, it is only an overgrown footpath in tall field grass. The road ends in a gully on the right/east side of a fence row that separates private ranch land (left) from State of Idaho land (right). From the gully, climb diagonally right/northeast to intercept the base of the southwest ridge on the far side of a prominent gully. Ignore the [closer] southwest spur since the southwest ridge goes directly to the summit. Bash through thick grass and veg to reach the crest of the southwest ridge.
Find a sporadic game trail on the ridge to get you through the [initially] thick sagebrush and other brush on the ridge. Stay on the ridge crest for the easiest scrub. As you gain altitude, the scrub thins out and, high up, is very thin with a broken scree base. The upper ridge is pure joy compared to the ridge's rather ignominious base. The southwest ridge leads directly to the cairned summit of Enoch Benchmark. I rebuilt the torn-down summit cairn. I could not locate the benchmark. The summit offers a stunning view of Enoch Valley to the west. The 2-track road for this route is about 1.5 miles each way and undulates a bit, adding 730 feet of extra uphill round trip. But it is a necessity since the road up to the southeast ridge (from the parking pullout) is blocked by an active phosphate mining operation that is clearly signed and is patrolled by mining security detail in pickup trucks.
---
Rick Baugher Trip Report
The Peale Mountains have been described as a wrist with fingers extending. If this is so, then Rasmussen Ridge is a hangnail. Southeast Idaho has a greater concentration of named mountain features than anywhere else in the state. This is due partly to the compression-extension topography of the Overthrust Belt. We also can thank government scientists like section chief George Rogers Mansfield who, along with his team of geologists and surveyors, cataloged this land in the early decades of the twentieth century.
The 7-mile long Rasmussen Ridge is tightly bounded by the Grays Range to the northeast and two valleys to the southwest: Enoch and Rasmussen. Between these two valleys and on the flank of Rasmussen Ridge is a large active phosphate strip mine. There are two ranked 7'ers on Rasmussen Ridge. Both can be combined as separate hikes to make an enjoyable day outing, thus giving the peakbagger a quickie range completion.
Enoch Peak (7,819 feet) is the high point of the Rasmussen Ridge. Knowing where to start is key. Any approach from likely-looking Enoch Valley Road is blocked by private land. Instead, come in from Upper Valley and drive NW up Rasmussen Valley Road. There is a nice staging area adjacent to the private mining haul road within sight of the Agrium mine facilities. Ride a two-track north for 2 miles on State land. Hike NE, crossing a restoration area of decommissioned strip mine. The chunks of black carboniferous rock fragments you see are part of the Permian Phosphoria Formation.
Earth-moving equipment would collect this. It is crushed, put in a slurry, and sent to Conda or Monsanto for further processing, until you have fertilizer for your garden.
Mountain Range: Peale Mountains
Longitude: -111.42329 Latitude: 42.90311
Share this post ...