Elevation: 9,643 ft
Prominence: 743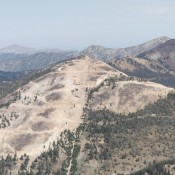 Climbing and access information for Estes Mountain is found on page 131.  This peak has been under assault by miners since the mid-1800s. There is currently significant mining going on on the peak's south face nearly up to its summit. Further mining has taken place on its east side where you will find old cabins and other mining debris.
---
Estes is a striking summit which can easily be reached from the road described below. Please be aware that much of the peak's southern slopes, nearly to the summit, is part of a patented mining claim and thus private property. As a result, it is best to climb the peak via its north ridge which can be accessed as described below.
The following access information expands on the access information in the book Start on (F)(3.2) Loon Creek Summit Road which begins just north of the Yankee Fork Dredge. From this road you can access the ridge line south of Estes Peak via a road that, as far as I know, does not have a Forest Service number designation. I will designated as FS-3.2.2, Estes Mining Road. This road leaves (F)(3.2) 5.1 miles north of the beginning of the Loon Creek Summit Road. The Forest Service map and the USGS Quad show this road as a jeep trail but in fact it is a well maintained, albeit steep, road that leads up and over the ridge to the east. Turn right onto this road and drive 2.4 miles to the ridge top where you will find parking and a spot to make a pleasant dry car camp. From this point, continue on the road as it swings around the peak's east side. You will pass old cabins and at least one inhabited cabin on the east side. Follow the road off of private property (not marked) till you can access the peak's north ridge.
Mountain Range: Salmon River Mountains
Longitude: -114.71169 Latitude: 44.44539
Share this post ...