Elevation: 9,825 ft
Prominence: 125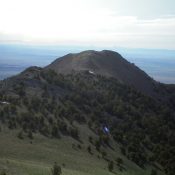 This peak is not in the book. Published December 2019
---
Gallagher Peak is the [lower] east summit of Peak 9877. It sits at the head of Gallagher Canyon in the South Beaverheads. Gallagher Canyon is pretty remote and seems to be only visited by hunters on ATVs these days. The roads in this area are not well maintained. Cattle and elk rule here. Buy a horse. Gallagher Peak is the first of five summits in a single-day adventure called the Tour de Gallagher. USGS Copper Mountain
East Ridge, Class 2
Access
From the junction of ID-22/ID-28, drive east on ID-22 for 10.4 miles to [unsigned] Chandler Canyon Road/FSR-202. There is a State gravel pit located across the highway here (signed "State Property/Keep Off"). Turn left/north onto Chandler Canyon Road. At 3.5 miles, go through a cattle gate. At 6.3 miles, reach an unsigned road junction (left is Rocky Canyon Road). Go straight here.
At 6.7 miles, cross a cattle gate and enter BLM land. About 100 feet past the cattle gate, there is another unsigned road junction. Go left/west here onto Gallagher Canyon Road/FSR-201. The road is signed about 100 feet up from Chandler Canyon Road. Drive 1.1 miles and park at the mouth of Gallagher Canyon. The elevation here is 6,140 feet. If road conditions (and your vehicle) allow, you can drive another 1.5 miles to a road closure fence in a meadow and shorten this climb considerably.
Chandler Canyon Road is a narrow, rutted, dirt road that is not maintained regularly. I do not recommend driving on it if conditions are muddy or wet. Gallagher Canyon Road is a 2-track road that is overgrown/grassy and receives minimal maintenance, if any. This is the kind of drive you'll do once and vow to never return to this area, unless on an ATV or MC. Most of the drive passes through private property so access may become an issue in the future.
The Climb
From the parking pullout at the mouth of Gallagher Canyon, scramble north up a slope of easy sagebrush/grass to reach the rounded, somewhat ill-defined crest of the east ridge of Gallagher Peak. Follow the meandering ridge west then northwest then west on easy scrub/grass, broken scree, and a few areas of slab rock. The ridge bends left-ish/southwest and drops a bit to a saddle just below 7,500 feet (near Point 7504). Sometimes the ridge is narrow and obvious; at other times, the ridge is wide and rounded. But it is, nevertheless, an obvious ridge in the bigger picture.
From the narrow saddle, the ridge steepens considerably, bends right/northeast and, soon, you enter forested terrain. Stay in the open, easy forest on the right/northeast side of the ridge for the easiest going. This upward grind never seems to end. The ridge is somewhat charred from a forest fire. Higher up, the ridge bends left/west and does a final right/northeast turn to reach the rocky, open summit of Gallagher Peak. This peak has a decent cairn on its high point. Disappointingly, the connecting ridge to the next peak (Peak 9877) won't be a cruise as the USGS topo map suggests. This traverse will take some work.
West Ridge, Class 2
Access
Same as for the east ridge. This is the first leg of a ridge traverse from Gallagher Peak to Peak 9877.
The Descent
From the summit of Gallagher Peak, Peak 9877 is a good 0.7 miles away and the ridge is rocky with several ups and downs. This traverse will be tedious. The low saddle between Gallagher Peak and Peak 9877 is fairly close and easy to reach. Follow the ridge west-northwest on a rocky base with some scrub mixed in. Descend about 140 vertical feet to a minor saddle. This is the base of the west ridge of Gallagher Peak.
Mountain Range: Beaverhead Range
Longitude: -112.78939 Latitude: 44.16719
Share this post ...