Elevation: 10,100 ft
Prominence: 120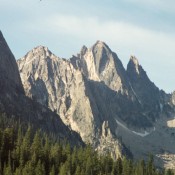 Climbing and access information for this formation is on Pages 180-181 of the book. USGS Mount Cramer
---
Contents: Weekend Warrior and Great Gulley (IV, 5.8, M1-2)
---
Steve Lysne provided the following route information:
Weekend Warrior and Great Gulley (IV, 5.8, M1-2). On June 5th, 2004, Dave Hopper and I made the first ascent of Weekend Warrior on the Goat Perch. The route climbed the narrow, NE-facing Couloir between the Goat Perch and Eagle Perch for approximately 400 vertical feet (snow or ice to 60º) before exiting south onto the North Face of the Goat. A short pitch of easy mixed climbing (50 feet) led to the conspicuous dihedrals on the North Face.
The first rock pitch ascended the right dihedral, crossed the arête, and climbed the left dihedral before reaching the bulging, wet, and mossy crux of the route. Pitch #2 continued up and left on steep rock to a small belay stance at a pine tree. Pitches #3 and #4 were on 4th Class terrain, negotiating steep, broken rock to a good platform just below the summit block. A scramble reaches the high point. 16 hours round-trip to car.
On June 4th, 2005, Dusty Perkins and I made an ascent of the Great Gulley on the same mountain (IV 5.8, M 3). This line may have been climbed previously, but no known record exists. Start as above, but continue up the couloir, past the exit on the North Face to Weekend Warrior, to the col between the Goat and Eagle Perches (250 feet). The route becomes very steep at the top and is guarded by a large, overhanging cornice. Aid or free wet rock on the left, or climb snow and alpine ice (also to the left) depending on conditions (up to 85º), around the cornice.
From the top of the couloir, travel south (left) to the large gulley below the Northwest Fface of the Goat and up easy mixed terrain (Class 4), or talus and scrub-brush, depending upon conditions (300 feet) to the base of the summit pitch. 100 feet of excellent climbing on beautiful granite leads to a good rappel station with fantastic views into the heart of the Sawtooth Mountains! Two rappels and downclimbing to the west led to the top of couloir, which we rapped and downclimbed. Best to follow your ascent route. 13.5 hours round-trip to Redfish Lake Inlet camp.
Conditions in the couloir can vary greatly. In 2004, the snow was soft and wet (with obvious difficulties) and in 2005 it was hard and we front-pointed most of the route. Snow in the couloir can last until September and conditions may be very different when the couloir is thin, the snow in the large gulley is gone, and the rock is dry. Good pro exists throughout.
---
Mountain Range: Sawtooth Range
Longitude: -114.982545 Latitude: 44.056929
Share this post ...