Elevation: 3,130 ft
Prominence: 480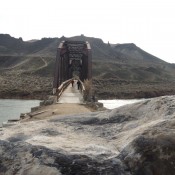 Guffey Butte is located along the the Snake River southwest of Kuna, Idaho. This small butte has excellent paved access. (Search for Celebration Park on Google Maps for directions.) There are exceptional views of the Owyhee Mountains and the Snake River from the top.
The butte is accessed by crossing the Snake River on a converted railroad bridge. While there are no  official trails use trails have taken root and climb nearly to the summit. I posted my GPS track below which followed use trails nearly to the summit. The butte is infested with tumbleweeds which will be hard on a dogs feet.
Dan Krueger supplied the following information and photos:
Guffey Butte has a rocky ridge of volcanic rock about 1/2 way to the summit. There are some interesting formations, such as in that first picture. It's not really an arch, more like a 2ft diameter hole through the base of an enormous rock (I've attached another photo). You can actually see this rock in my second photo – it's the huge square-ish rock just right of the center of the photo. The second photo was taken from the top of the rocky ridge, climbing it is not necessary to reach the summit, but I have a hard time resisting class 3 terrain. 🙂 The path to the summit cuts through the photo from right to left (see attached). The 3rd photo is the large cairn at the summit, facing to the south. There's an ammo can there with a notebook.
Mountain Range: Snake River Plain
Longitude: -116.54119 Latitude: 43.28679
Share this post ...