Elevation: 9,033 ft
Prominence: 813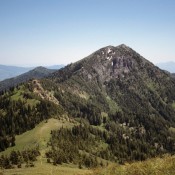 Climbing and access information for this peak is on Page 361 of the book. Below you will find updates including a new route submitted by Livingston Douglas. Use this link to read about traversing Bonneville, Snow Peak and Haystack Mountain.
---
There are eight mountains named Haystack in Idaho. This is the tallest of the bunch. Haystack Mountain is one of the most impressive peaks in the Portneuf Range. It is a steep, long climb from the west. See Steve Mandella's photos and GPS track below for additional details not found in the book. USGS Haystack Mountain
Steve provided the following comments: "Where I parked was as far as I dare take my Subaru. Had I known the road conditions, I definitely would have taken the FJ. A good high-clearance vehicle would have cut 3.5 miles off the trip. I also made one wrong turn that cost me another 1/2 mile. If you drive to the end of the road and avoid the wrong turn, the hike should be about 11 miles round trip."
---
New Routes by Livingston Douglas 
Haystack Mountain is somewhat overlooked due to its neighbors to the north (Bonneville Peak, Snow Peak). While the most popular (and easiest) ascent route is via the north ridge, there are some challenging opportunities on Haystack's western aspects. Trail hikers need not apply.
West Ridge/West Face/Southwest Shoulder, 
Class
3
Access
From Exit 47 on I-15, drive east toward McCammon on US-30 for 0.8 miles to Old Highway 91. Turn left/north onto Old Highway 91 and drive 3.3 miles to Robbers Roost Road (street sign) on the right/east side of the highway. Drive 0.1 miles up Robbers Roost Road to a pullout just below a cattle gate. Park here (4,785 feet). Beyond this point, Robbers Roost Road is quite narrow and is only suitable for ATVs and MCs. It becomes overgrown with veg, bushes, and field grass and has a severely-rutted section as well as a few rocky sections.
The Climb
From the cattle gate, hike up Robbers Roost Road for two miles to the Caribou National Forest boundary. The road now becomes FST-265, an ATV trail. Follow FST-265 for ¾ mile to a signed "T" trail junction. Go right/south onto FST-272 (the sign wrongly says FST-072) for ¾ mile to a partially-signed trail junction. Go left/east onto [unsigned] FST-253 (a MC trail) for 1.5 miles to a point where it crests and begins a descent and traverse to a ridge saddle just over a mile north of Haystack Mountain. The trail is on the left/north side of the west shoulder of Haystack Mountain here.
Leave the trail and bushwhack right/south through thick desert scrub and scattered trees to reach the crest of the west shoulder. Bash your way eastward and upward through the thick scrub briefly. You now realize that you are not going to make much headway up the west face from here. It is very steep, densely forested, thick with brush, and has numerous cliff bands embedded in it. You will notice a magnificent shoulder that is located about ½ mile south of your current position. That shoulder (the southwest shoulder) is more moderate in steepness and is open terrain, not forested. Now, if you can just GET THERE. And that, my friends, is the crux of the climb.
Leave the west shoulder (at about 7,750 feet) just before it steepens considerably. Do a slightly-ascending traverse south-southeast to intercept the southwest shoulder. You will gain about 275 vertical feet in doing this traverse. This traverse of the west face is rated Class 3 due to 5-6 crossings of narrow, steep gullies that cut the face, with pine forest shoulders/aretes in between. Side-hilling on steep, loose gravel and thick brush is not easy, and getting up out of some of the gullies requires pulling on veg/brush/aspens to reach the next [forested] shoulder/arete.
When you finally reach the open northwest face of the southwest shoulder, climb up the steep scrub to reach the crest of the rounded shoulder. This is the first shoulder that offers open terrain and it is a big shoulder. You can see its descent down to the head of a narrow drainage. These are all factors confirming that you are on the correct shoulder. Follow the shoulder northeast through thick scrub, then through thinner scrub and scattered pines. The ground surface becomes rockier as you ascend (talus/scree mix with short scrub). You will even have to surmount two cliff bands (Class 3) to reach the final scrub slope to reach the summit ridge. The southwest shoulder puts you on the south ridge about 0.2 miles from the summit of Haystack Mountain. Stroll northward along the easy south ridge on flat, broken shale to reach the summit cairn.
North Ridge/
West
Face/West Ridge, Class 2
+
This route is involves a direct descent down the steeply-forested west face from the north ridge to intercept FST-253. This short-cut reduces the round trip distance by 1.5-2.0 miles.
Access
Same as for the west ridge/west face/southwest shoulder route
The Descent
Descend the north ridge for just over 700 vertical feet to a flat area on the ridge at about 8,300 feet. In so doing, you must skirt the right/east side of several high rocky outcrops/ridge cliffs and then go right/east to descend somewhat-steep, open desert scrub to reach the gentle, flat, narrow ridge area at 8,300 feet. As you descend the north ridge, you occasionally get a glimpse of the MC trail (FST-253) as it winds its way along the west side of the north ridge on its diagonal ascent up to the 8,220-foot ridge saddle that lies another ¾ mile farther north along the narrow north ridge.
Leave the north ridge almost immediately after reaching the flat area at 8,300 feet and descend west through steep, open forest. You will find some good elk trails to help you in your descent. The forest ends and you must bash your way through thick brush/aspens/willows to eventually find FST-253. The trail is quite hidden in this thick terrain, so you won't see it until you're right on it.
You might think that you missed it. No, you didn't. Just keep plowing your way west and you are guaranteed to intersect it. You should reach it in the 7,625 to 7,650-foot area. Follow FST-253 southwest to return to the trail departure point for the west ridge/west face/southwest shoulder route in just over 10 minutes (about ½ mile). Cruise down the series of trails you ascended to return to the base of Robbers Roost Road.
Mountain Range: Portneuf Range
First Ascent Information:
Other First Ascent:

West Ridge/West Face/Soutwest Shoulder

Year:

2018

Season:

Summer

Party:

Livingston Douglas
Longitude: -112.114813 Latitude: 42.713367
Share this post ...