Elevation: 6,985 ft
Prominence: 965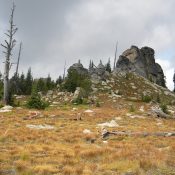 This peak is not in the book. Please note that this is a twin summited peak which are separated by 6,600 foot saddle and 0.5 miles. Both summits have prominence and both are reached via 4WD roads. The second peak is Peak 6966.
---
I refer to this peak as Horseshoe Summit which is not an official name. Some sources refer to it as Horseshoe Viewpoint, while others call it Horseshoe Lake Lookout, though Horseshoe Lake is about two miles away.
This peak forms a spur ridge separating Howard Creek and Gravey Creek in the upper Cayuse Creek basin off of the main Lochsa/North Fork Clearwater divide. At 6,985 feet is one of the highest points along this extended ridge system in the Clearwater National Forest north of US-12. Its northern slopes rise nearly 3,200 feet above the canyon bottoms of Cayuse Creek and indirectly 4,200 feet above the Lochsa River to the south. A lookout was established here in 1921, but it burned in a 1961 forest fire. Today the large summit area is still open with only sparse scattered trees offering expansive views into the more remote sections of The North Fork Clearwater River basin. The word "Horseshoe" was spelled in rocks to identify the lookout from the air and these rocks remain today.
The summits along the extensive divide system generally are not well pronounced forming clear peaks or mountains. Rather the ridges rolls on for many miles with broad, gently waving high points that often are not named. Horseshoe is one of the higher points that also forms a defined summit. But perhaps its most noteworthy features are the several fascinating rock formations on the wide summit area. Large irregular formations of weathered granite are not uncommon along this otherwise featureless ridge system; however on the summit of Horseshoe these are probably the largest and densest to be found. These rocks provide good bouldering opportunities and are popular with photographers.
The history of the area is very significant as Lewis and Clark followed the main divide on an old Indian trail that today is known as the Lolo Motorway. It is in this extensive sea of mountains that the Corps of Discovery had their greatest trials and nearly perished due to hunger and harsh conditions. The Motorway is popular today with people tracing the trail of Lewis and Clark and visiting the many significant historic points along the Indian trail.
Access and Route, Class 1
This peak is accessed from US-12 and the Lolo Motorway (Forest Road 500) from either the east or west. The quickest way is to turn off US-12 onto FS-107 at the mouth of Indian Grave Creek. Follow FS-107 road for approximately seven miles to Saddle Camp, which is the junction with FS-500. Five roads meet here. Take the first right, which is FS-500. It's very narrow and the entrance may appear partially obscured by brush. Follow FS-500 road east for approximately four miles to its junction with FS-588 at a point labeled on the map as Howard Camp (note, the Clearwater National Forest visitor map indicates Howard Camp to be up the 588 road, but signs on the ground and USGS quads label it as occurring at the junction of 500/588). Wherever it actually occurs turn left onto FS-588 and follow it for approximately four miles to its end on the summit of Horseshoe.
The 500 road is very narrow with few limited pullouts or places that would allow two vehicles to pass each other. If two vehicles meet someone will likely have to back up a long ways. If the road has not been maintained or brushed recently, then expect some wear on your vehicle. High clearance is recommended and 4wd is a good idea, though other cars can make the drive if one is cautious and takes it easy. If there are concerns then cars can be parked at Saddle Camp or Howard Camp, which would allow people to hike in a few miles to the summit.
[Editor's Note: Use this link to read more about the Lolo Motorway.]
USGS Horseshoe Lake
Mountain Range: Northern Clearwater Mountains
Longitude: -115.06719 Latitude: 46.5701
Share this post ...