Elevation: 10,772 ft
Prominence: 432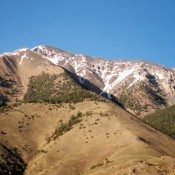 Climbing and access information for this peak is on Pages 288-289 of the book. The route in the book starts in the Little Lost River Valley and begins in Cabin Fork Creek. I climbed the peak via its south ridge, Kaleb Houck climbed the peak via a rib on the peak's southwest face. He provided the route update found below. It is labeled "Jaggle Peak" in the book. Updated August 2022
---
Jaggle Benchmark is a great, seldom-visited summit. Jaggle is the highest point on the southern Lost River Range crest between South Twin and King Mountain. This page documents two new routes up the peak. USGS Sunset Peak
South Ridge, Class 2
Although I rate this climb as Class 2, the last few feet up the summit block verge on Class 3. See [(A)(2) on Page 289] for access information.
Use your 4WD to get to the end of the Cedarville Canyon Road. Follow the canyon as it meanders west, north, west, and then north. The canyon is filled with obstacles including downed trees, brush, and avalanche debris. Allow a lot of time for the approach. At times, we detoured out of the canyon bottom to follow promising lines but always had to drop down into the canyon. Although difficult, the canyon is stunning and wild. The route steepens at roughly 8,800 feet. Once it turns north at 9,400 feet, the route is obvious and climbs talus slopes. The ridge narrows near the end. The route is on the East Side of Point 10250 and the West Side of the last high point before the summit.
---
Southwest Rib, Class 2 by Kaleb Houck
Access
In an attempt to find a southern ridge traverse to South Twin, I decided to use Jaggles Canyon as a launching point for Jaggle Benchmark. The CalTopo list a 'Jeep Road' up the canyon. Using a 2 door Wrangler I can say that the road ends up being rather tight. I am not worried about vehicle scratches but if you are this road won't be for you. Otherwise, the drive is pretty simple.
Southwest Rib, Class 2
At the end of the road, you will find it blocked off. You will find that there is a former road that goes right up to a meadow at the base of Jaggle. This makes the approach quite easy. From there you can follow game trails or take a straight line up to the western ridge from the meadow.
Once you leave tree line you will find a steep talus field going up to some spires. This talus is incredibly loose and required a hand on the ground or atleast a pole to make much progress. This 500 feet of loose material proved to be the only difficult, and miserable part of this route.
I decided with the thunderstorms over Borah to enjoy my time on the summit and head down. I didn't get to explore the ridge to South Twin. This route is, however, a pleasant and straight way to the crest.
Mountain Range: Lost River Range
Longitude: -113.3279 Latitude: 43.8953
Share this post ...