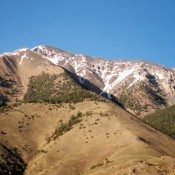 Jaggle is found on pages 288 and 289 of the book.
---
Jaggle is a great, seldom visited summit. This page documents a new route for the peak, not found in the Book.
South Ridge (Class 2)
Although I have rated the climb class 2, the last few feet up the summit block verge on class 3. See Approach (A)(2) on page 289 to get to the peak.
Use your 4WD to get to the end of the Cedarville Canyon Road. Follow the cayon as it meanders west, north, west and then north. The canyon is filled with obstacles including downed trees, brush and avalanche debri. Leave lots of time for the approach. At times we detoured out of the canyon bottom to follow promising lines but always had to drop down into the canyon. Although difficult, the canyon is stunning and wild. The route steepens at roughly 8,800 feet. Once it turns north at 9,400 feet the route is obvious, climbing talus slopes. The ridge narrows near the end. The route is on the east side of Point 10250 and the west side of the last high point before the summit.
Mountain Range: Lost River Range
Share this post ...