Elevation: 7,222 ft
Prominence: 362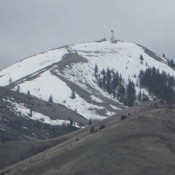 Climbing and access information for this peak is on Pages 355-356 of the book. There is a lot of additional information set out below. First up is Steve Mandella's photo essay documenting his 2010 climb. Second is Livingston Douglas' 2018 report. Finally, you will find an historical photo at the bottom of the page. Updated October 2018
---
Kinport Peak is close to Pocatello and is a popular ascent early in the season. Steve Mandella provided the following trip report which provides an alternative route from the one listed in the book. USGS Pocatello South
---
Steve Mandella 2010 Update
Kinport Peak is normally accessed from one of the two City Creek trailheads (upper or lower). I chose the upper one for this hike. It takes a few hundred feet of elevation off the vertical climb. I also made a loop and connected a few other no-name high points together. I jogged a bit of the downhill and was charged by a moose in the treed section!  Round-trip stats: 9.2 miles with 2,574 feet of elevation gain. Most people take the City Creek Road up to about 6,400 feet and then follow the northeast ridge to the summit. This route is usually free of snow by April/May.
Below are Steve Mandella's photos from the loop route.
---
Livingston Douglas 2018 Update
The "Pocatello Greenbelt Trailhead" referred to in the book is now called the "City Creek Management Area". Use either Center Street or Benton Street to reach Lincoln Avenue. Drive southeast on Lincoln Avenue until it ends at a street junction/stop sign. This is City Creek Road. Turn LEFT here and drive 0.4 miles to the trailhead parking area (4,805 feet).
Passenger vehicles can drive another ¾ mile (up Kinport Road) to two other, small pullout parking areas near the road's junction with the North Fork Road. You can drive another 1.4 miles up Kinport Road to a sharp left turn. At this point, the road becomes a rough, 4WD high-clearance road. There is a parking pullout for only one vehicle here.
The current City Creek Management Area Trails Map is linked here. You should have it with you if you plan to hike up Kinport Peak or Wild Horse Mountain. By the way, the book refers to nearby "Wild Mountain" on Page 356. The mountain's correct name is Wild Horse Mountain as per the National Forest map. Both the USGS topo map and the book are incorrect on the nomenclature.
The summit of Kinport Peak has two potential high points. The south summit is larger and more gentle and has the most prominent communication towers. The north summit is smaller, rockier, and has two smaller communication towers. Which summit is higher? The official/measured high point is the north summit (7,222 feet). However, when you stand on the south summit (which is the first summit that you reach), you are quite sure (visually-speaking) that you are on the high point of Kinport Peak.
I measured both summits and the south summit is about 20 feet higher (based on altimeter measurements), confirming my visual observation. Since it is not on a higher contour line, the elevation of Kinport Peak is just shy of 7,240 feet. I am generally a believer that, without a specific measurement, you can't know if a non-measured summit is higher than a measured summit. But in the case of Kinport Peak, it's so visually obvious and is so different that there is no doubt in my mind that Kinport's true summit is the non-measured south summit.
---
Mountain Range: Bannock Range
Longitude: -112.48679 Latitude: 42.80829
Share this post ...