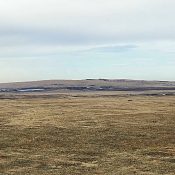 Kuna Butte is a large volcanic formation located just south of Kuna, Idaho on the west side of the Swan Falls Dam Road. The views from the butte are expansive.
The butte is located in an area designated as part of the Morley Nelson Snake River Birds of Prey Preserve. This area can see heavy use by dirt bikes and off road vehicles on weekends. As a result there is an extensive road system on the butte which makes for easy access to the summit area. The roads make good trails for mountain biking and hiking.
Drive south from Kuna on the Swan Falls Road to access the butte. Two, easy to spot, roads lead to the summit from this road. Both are rough and I recommend a high clearance vehicle if you are going to start closer than the paved road.
The northern most road leaves the highway just south of the Kuna water treatment settling ponds which are marked by a string of pine trees along the road. Take the first right after passing the pine trees and reaching the sagebrush.
The southernmost road is the best of the two and less steep than the northern road. I recommend it, especially  if you plan to mountain bike to the top. This road is found a couple of hundred yards south of a small BLM interpretation site.
The butte is a nice, large natural area and a good hiking and mountain biking destination if you visit on a day with out motorcycles and ATVs. Given the size of the butte and its gentle, undulating terrain a person could spend a lot of time exploring its many recesses.
Mountain Range: Snake River Plain
Longitude: -116.44778 Latitude: 43.44549
Share this post ...