Elevation: 6,408 ft
Prominence: 2,028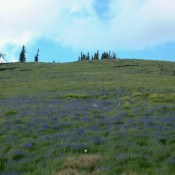 Climbing and access information for this peak is on Page 57 of the book.
---
Latour Peak is the highest peak in the Saint Joe Mountains and is the Kootenai County high point. That status combined with its 2,028 feet of prominence make Latour Peak a popular destination. USGS Twin Crags
Ken Jones provided the following directions to the summit:
From I-90 west of Pinehurst, take the exit on the east bank of the Coeur d'Alene River and head south on Latour Creek Road. The pavement ends in 1.4 miles. Follow Latour Creek Road southwesterly, staying on the main road in Latour Creek Valley. Cross the creek on a bridge at 6.3 miles and find a BLM sign identifying the Rochat Divide Road. Continue up the valley to the 9.8-mile mark. Turn left (a sign indicates the route to Twin Crags) and cross a bridge. Reset your odometer to zero.

Driving has been easy in a passenger car until here. We drove our overloaded Honda Accord the rest of the way, but you might want higher clearance. Follow the main, broad road as it winds up the hillside. At a main road switchback at about 2.6 miles from Latour Creek, a key junction is reached. Go right, following the narrower road which contours out on the south facing slope of the ridge. If you don't, you could waste a lot of time – trust me on this!
Follow the main road. It will eventually go up to near the top of the ridge and then head east. My notes are sloppy, but I think they say to keep uphill (left) at several spurs. At about 2 miles from the key junction, bear left and switchback uphill. Stick to the old, main road past some new logging spurs. The road will near the ridge and switch back to the right. About 6 miles from the key junction, you'll reach the saddle between the two high points, with a sign indicating "Twin Crags." Park here.
A serious high-clearance vehicle may be able to continue to the saddle between Mount Wiessner and Twin Crags, or even to the lookout site. My Accord didn't make it. And turning it was a challenge. The 6-mile drive from the key junction to the saddle took between 45 minutes and an hour in my Accord. These roads aren't fast. From the saddle (~5,850 feet), head north up the ridge to Latour Peak. Paths and easy cross country will bring you to the summit in about 1/3 mile and 550 feet of elevation gain. Return to the saddle.
Also See Dan Robbins' trip report for updated information.
Mountain Range: Saint Joe Mountains
Longitude: -116.36179 Latitude: 47.43379
Share this post ...