Elevation: 8,620 ft
Prominence: 980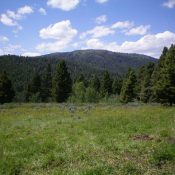 This peak is not in the book. Published December 2020
---
Little Table Mountain is located in the Western Centennials. It is a rather nondescript sagebrush hump with an ill-defined high point (though it does have a cairn and an ID/MT boundary marker). The Continental Divide Trail gets you pretty close to the summit area. If you can drive to Pete Creek Divide, you can follow the CDT almost to the summit and have an easy day. USGS Big Table Mountain
Access
From its signed junction with West Camas Creek Road/FSR-006 northwest of Kilgore (and 2.0 miles east of Porcupine Pass), drive 0.4 miles up Pete Creek Road/FSR-010 to a junction. Turn left onto FSR-012 and drive 1.9 miles north to its end at 1.9 miles and park (7,190 feet). This point is about ½ mile south of Point 7181 on the USGS map.
Map Errors and Missing Roads
The map errors for roads in this area are so vast that they deserve special mention. Pete Creek Road/FSR-010 DOES exist. It begins at a junction with West Camas Creek Road/FSR-006. I'm not sure how much of the road still exists since I only drove partway up it.
FSR-012, which actually FOLLOWS the west side of Pete Creek, only exists for 1.9 miles where it ends at a turnaround area. It becomes an overgrown 2-track and then quickly erodes into a foot trail which, in itself, is difficult to follow in sections. The latest Targhee National Forest/Dubois Ranger District Map (2010) shows that it goes all the way to the Pete Creek Divide on the Continental Divide, yet the road has been GONE for DECADES. The USGS topo map also shows the same road in existence.
FSR-249, which heads up Stump Creek and then onto a shoulder that separates Stump Creek from Pete Creek, is COMPLETELY GONE. Yet it still shows up on the latest Targhee National Forest/Dubois Ranger District Map (2010). It is supposed to leave FSR-012 about 0.2 miles up from the junction of FSR-012 and FSR-010.
If you plan to use Forest Service roads to get close to Little Table Mountain, GOOD LUCK. They're mostly GONE. That's what I found out by driving around in that area and climbing Little Table Mountain from its southeast side from near Pete Creek.
East Ridge/Southeast Shoulder, Class 2
The Climb
From the end of FSR-012, bushwhack west up the forested slope to reach the wide, rounded southeast ridge. Follow the wide, ill-defined ridge north then northwest over two ridge humps until the ridge becomes better defined when it narrows and steepens at 7,650 feet. The terrain to this point is open forest and is not clogged with blowdown but the grass/veg is of medium height and takes a bit of work to bushwhack through. There are occasionally game trails to help expedite the ascent.
Up near tree line, the ridge becomes very clogged with tall veg and lots of blowdown. Once above tree line, scramble up a short talus slope to reach a north-south ridge section at about 8,000 feet. Go right/north here and climb to 8,200 feet on a well-defined, narrow ridge of scattered pines, some brush, and broken rock to reach a talus hump at a ridge corner.
Go left/west here and skirt the left/south side of the talus hump. Follow a game trail west-northwest up to a corner point on the Continental Divide (Point 8558). There is a large cairn and an ID/MT boundary post here. Follow the ridge crest (i.e., Continental Divide) southwest then west and quickly find a broken-down cattle fence along the ridge crest with an old 2-track road along its right/north side. This 2-track is now a foot path that is part of the CDT.
The CDT goes up over Point 8591 then drops to a saddle and climbs west to another ridge corner. Go right/north here and continue to follow the CDT on the right/east side of a cattle fence. Drop to a final saddle and then climb up a hill that gets you near the summit of Little Table Mountain. Leave the CDT as it crests here and bushwhack east through sagebrush to reach the high point area of Little Table Mountain. There is a cairn and an ID/MT boundary marker on the high point. The summit area is a large field/plateau of sagebrush.
East Ridge/East Face, Class 2
The Descent
From the summit, return west to the CDT and follow it back to Point 8558. Descend the ridge to the ridge corner at 8,200 feet and the talus hump there. Descend the southeast shoulder briefly to 8,100 feet then descend east-southeast directly down the face through a pine forest without too much blowdown. Cruise through some open meadows on the way back down to the remnants of FSR-012 on the west side of Pete Creek. Stay well above the willow-infested creek drainage and find the foot trail that used to be a road MANY years ago. Follow the foot trail south for about a mile to the end of FSR-012 and your parked vehicle. The descent route is an easier bushwhack than the ascent route.
Mountain Range: Centennial Range
Longitude: 122.10849 Latitude: 44.52369
Share this post ...