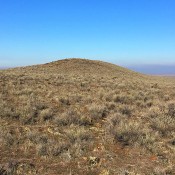 This Snake River Plain butte is not in the book.
---
Lockman Butte is located north of Mountain Home, Idaho. Access this butte from the Canyon Creek Road. [(D)(1)] on page 154 in the book. Follow the road north across the freeway. Soon after the pacement ends, the road,will cross a bridge over a canal which is a diversion from Canyon Creek. 0.4 miles after the bridge a two track leaves the main road. Follow this two track to the edge of Canyon Creek. The creek is housed in an abrupt canyon cut through basalt. It is not to difficult to find a Class 3 route down to the creek and up the other side. The difficulty will be crossing the creek which flows fast and deep at this point.
There is a small diversion dam at the south end of the canyon which would be the easiest way to cross the creek. It appears that the dam is on State owned land. However, this piece of land is connected to private land and there is no fence between the two sections of land. See the map below which shows the most recent land ownership pattern that I can find. There are not any no trespassing signs in this area. However, you get across the creek you will have to climb the basalt cliffs on the other side. There are Class 3 routes. Once above the creek it is an easy ascent through the sagebrush to the summit where you will find a benchmark.
An alternative route is to follow Canyon Creek Road north until it forks. Take the left fork, cross Canon Creek and drive up the hill. Just after the private property ends, a two track leads the main road. This rough road can be followed south to the butte.
Mountain Range: Snake River Plain
Longitude: -115.71849 Latitude: 43.21219
Share this post ...