Elevation: 5,678 ft
Prominence: 858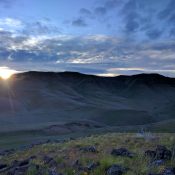 This peak is not in the book. Additional Danskin Mountains access information can be found in the book at (D)(1) at pages 154-5 and (G)(1) at page 156. Also see the following website page: Danskin Mountains OHV Trails. Published May 2018
---
Long Tom Benchmark sits on the high point of an interesting and massive 6 mile wide shelf which slowly rises over a couple miles out of the east, and then abruptly terminates into the very rugged west facing Big Bluff.
Views from the summit are quite vast and impressive.  It's fairly centrally located, close enough to the Snake River Plain, and high enough that it provides one of the best vantage points into all of the rolling southern Danskin's.  It also lends 50+ mile views in nearly all directions, so many of the higher and more impressive snow capped mountain ranges are visible which provides a great backdrop.
This massive shelf is landlocked pretty well by rugged geographical features and riddled private property.  The three most obvious and best routes are as follows:
1) From the south via Syrup Creek Road or Immigrant Road.  Requires navigating up and over the tall guarding west ridge, then descending down into the deep and steep Long Tom Creek canyon, and then ascending back out of the canyon and up the fun and rugged Big Bluff.  Although only 6 miles round-trip, all that up and down amounts to a whopping 5k' of elevation gain round-trip!
2) From the east via Long Tom Reservoir.  Much of Long Tom Reservoir is surrounded by unmarked private property.  Although I haven't completed this route, from what I've seen there are primitive roads that ascend from the reservoir most of the way to the summit, I'm guessing they'd be difficult to navigate in a vehicle, and they require crossing a small amount of private property near the reservoir.  This route also appears to be around 6 miles round-trip, but with a much smaller 1.5k' of gain.
3) From the north via the historic Jeffrey-Goodale Cutoff Oregon Trail#143A (https://en.wikipedia.org/wiki/Goodale%27s_Cutoff).  Enjoy the extremely risky drive or interesting mountain bike ride for 16 miles and 3k' gain round-trip from Danskin Lookout Road to Cottonwood Springs via Trail#143A, I've included the GPS tracks for this trail for clarity.  I've observed primitive roads ascending out of Emigrant Cove that could be used, but unfortunately said beautiful cove is on private property, so once at Cottonwood Springs due north of Long Tom Benchmark, ditch the bike and hike the obvious rolling and pretty ridge to the summit.  The hiking portion of this route only requires 5 miles and 1.5k' gain round-trip.  So total stats is 21 miles and 4.5k' of gain, round-trip.
USGS Syrup Creek
Mountain Range: Boise Mountains
Longitude: -115.63729 Latitude: 43.31269
Share this post ...