Elevation: 9,127 ft
Prominence: 627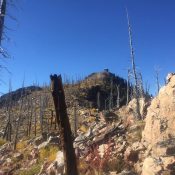 Climbing and access information for this peak is on Page 128 of the book. Updated July 2018
---
Middle Fork Peak is the second-highest point in the Yellowjacket Mountains Subrange of the Salmon River Mountains. This peak is an impressive island in the sky, but is remote and difficult to reach by any measure. As I note in the book, the peak is reached by both road and trail. The road is long, bumpy and requires self-sufficiency. It would constitute a mondo mountain bike climb. The road approach is long and rough. It will take you hours to reach this remote mountain. The trail approach from the Middle Fork Salmon River requires 5,000 feet of elevation gain and that is before you make the long trek into the Middle Fork. The peak's history as a fire lookout is recounted down the page. USGS Aparejo Point
Access and Route, Class 1
The starting point for the drive to the summit begins on Panther Creek and uses FS-110, the road that leads to the Bighorn Crags [(H)(4.1) on Page 143]. Google Maps will give you good directions all the way to the summit and the signage is good. Basically, from Panther Creek, follow FS-112 west for 15.0 miles to a 4-way junction. From this junction, continue on to FS-112 signed for Yellowjacket and Middle Fork Peak. From this junction, it is 14.25 miles to the end of the road just below the summit. These 14.25 miles climb 5,647 feet and descend 2,290 vertical feet. You will pass the Yellowjacket Guard Station (available for rent on Recreation.gov) and the old mining town of Yellowjacket (private property) along the way. A 4WD vehicle with exceptionally good tires is required.
---
Bing Young wrote the following about the lookout:
Middle Fork Peak first appears as a lookout in the 1919-1923 fire plans as a secondary lookout but, by 1930, it appeared that Middle Fork Peak was a primary lookout. At 9,127 feet, it is the highest of the currently [1982] manned lookouts.
Middle Fork Peak is the only remaining lookout of the many which used to guard the Middle Fork Area. Its viewing range is large and impressive–one of the greatest in the Forest. Middle Fork Peak is regularly manned and has a newer building in place of the early 1920s structure, and it is in as good a shape as any lookout.
Access can be had by traveling over a rather lengthy road from Cobalt to the Yellowjacket Country and finally up to Middle Fork Peak. It takes several hours and should not be attempted in a low-riding automobiles. For conditioned hikers, there is a trail up Warm Springs Creek from the Middle Fork of the Salmon River, but the vertical increase is 5,500 feet. —Salmon National Forest Fire Lookouts by Bing Young 1982, Pages 29-30
Mountain Range: Salmon River Mountains
Longitude: -114.65519 Latitude: 44.96209
Share this post ...